Crossproduct Annotation Object
The CrossProduct annotation object (ANNOBJECT_CROSSPRODUCT) consists of two rulers intersecting at right angles. With the automated functions, the CrossProduct is started on a mouse-down event and completed on a mouse-up event.
The class for CrossProduct Annotation objects is LAnnCrossProduct.
For information on flipping, reversing or rotating annotation objects, refer to Flipping, Reversing and Rotating Annotation Objects.
With low-level functions, you must define the points by calling the LAnnRuler::SetPoints function. The points are ordered as follows: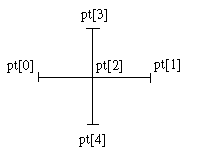 Other applicable properties have the following defaults, which you can change:
Related topics:
Low-Level Coordinate System for Annotations.
Annotation Objects - Automated Features