LAnnProtractor::SetPoints
#include "ltwrappr.h"
virtual L_INT LAnnProtractor::SetPoints(pPoints, uCount=3)
Defines the vertices of the protractor object.
Parameters
Pointer to the array of LEADTOOLS ANNPOINT structures that specifies the vertices of the annotation.
The ANNPOINT structure is like a Windows POINT structure, except that it uses double-precision floating-point values.
Coordinates of an object's points are relative to its container object. The coordinates are interpreted using the container's scaling factors and offsets, which are described in Low-Level Coordinate System for Annotations.
The number of points in the array that you specify in the pPoints parameter.
Returns
| Value | Meaning |
| --- | --- |
| SUCCESS | The function was successful. |
| < 1 | An error occurred. Refer to Return Codes. |
Comments
You call this function once, passing an array of points.
When setting the points of a protractor in the array, the vertices must be given in a specific order. The order of the vertices in the array is shown below: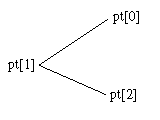 Required DLLs and Libraries
Win32, x64.
See Also
Functions
Topics
Example
For an example, refer to LAnnProtractor::GetDistance.