LEADTOOLS RTSP SDK Technology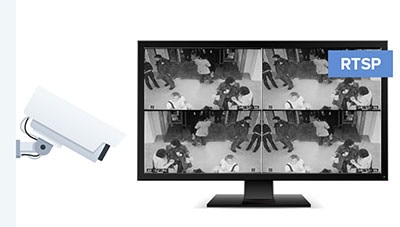 LEADTOOLS includes DirectShow filters and Media Foundation Transforms that support Real Time Streaming Protocol (RTSP) for sending and receiving audio and video over UDP and HTTP Internet or intranet connections. Developers can use LEADTOOLS to create or connect to any RTSP source to create powerful applications for surveillance, shop floor machine vision, video conferencing, live streaming, video on demand and more.
Overview of LEADTOOLS RTSP SDK Technology
Play, pause and stop any RTSP source
Connect to any RTSP source with UDP or HTTP protocols
Create RTSP servers with advanced security options
Use HTTP Tunneling to stream data from RTSP cameras on another network
Supports many popular audio and video compression formats including
Manage and cancel playback through callbacks and maximum timeout options
Stream from any offset in a given file
LEADTOOLS SDK Products that Include RTSP SDK Technology
Hover over each for information. Click to go to more details.
The Multimedia Suite SDK is a comprehensive collection of multimedia development technology from LEAD Technologies. By bundling features from the Multimedia SDK, DVD Module, Video Streaming Module, MPEG-2 Transport Module, Imaging Pro SDK and Distributed Computing SDK, the Multimedia Suite provides everything a developer needs to create enterprise level multimedia applications for a wide variety of industries including defense, broadcast, security and more.
The LEADTOOLS Video Streaming Module is perfect for developers who need to stream video or audio across the Internet or via intranet. This Multimedia module offers an unsurpassed multimedia experience at a toolkit level while at the same time reducing bandwidth requirements by taking advantage of LEAD´s video and audio codecs. With the LEADTOOLS Video Streaming Module you can stream multimedia files using a standard IIS web server or with Microsoft Media Server using LEAD's MMS Sink Filter. Create Smooth Streaming files and push them to an IIS Media Services server using LEAD's SSF Writer.
The LEADTOOLS MPEG-2 Transport Module includes DirectShow filters & Media Foundation Transforms to create and play MPEG-2 Transport and MPEG-2 Program streams. Quickly convert from one file format to another without recompression such as MP4 to MPEG2. The LEADTOOLS MPEG-2 Transport Module is able to stream data over UDP and TCP with option RTP packets as well as utilizing RTSP servers and DVR.
LEADTOOLS Online Documentation for RTSP SDK Technology