Multimedia Formats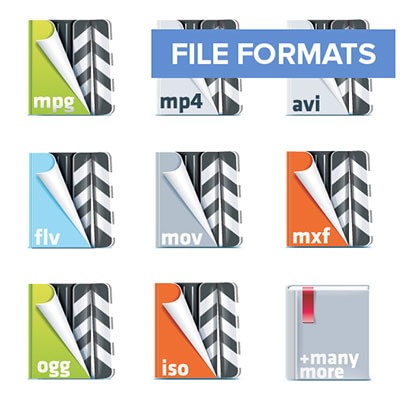 LEADTOOLS includes everything developers need to add multimedia playback, conversion, capture, streaming and processing of many audio/video formats. Programmers can easily add support for today's most popular multimedia formats to their .NET (C# & VB) and C/C++ applications for DirectShow and Media Foundation.
In addition to the codecs required for compressing and decompressing audio and video data, LEADTOOLS provides several multiplexers and demultiplexers for combining and splitting data streams into various container formats such as ISO, MXF, MKV and more.
Play, Convert and Save Any Input File Format Supported by DirectShow or Media Foundation Including:
LEADTOOLS Multiplexers and Demultiplexers
Since LEADTOOLS is built around DirectShow and Media Foundation, it can utilize any multiplexer or demultiplexer found on the machine to combine and split audio and video streams into files. For some of the most popular formats, LEADTOOLS includes its own implementations which offer better performance and customization than pre-installed or freeware options.
Other LEADTOOLS SDK Technologies Related to Multimedia Formats
LEADTOOLS SDK Products that Include Multimedia Formats
Hover over each product for a description. Click for more details.
LEADTOOLS Multimedia SDK is specifically designed for the development of audio/video applications across a wide variety of industries including defense, broadcast and security. The SDK offers a full range of technologies to developers and turns normally complex DirectShow & Media Foundation projects into simple tasks. Integrating core multimedia functionality such as playback, capture, conversion and processing into applications is easier than ever before with LEADTOOLS Multimedia.
The LEADTOOLS Multimedia Suite SDK is a comprehensive collection of multimedia development technology that provides developers with everything they need to create enterprise-level multimedia applications for a wide variety of industries including defense, broadcast, security and more. By bundling features from the Multimedia SDK, DVD Module, Streaming Module, MPEG-2 Transport Module, Imaging Pro SDK and Distributed Computing SDK, Multimedia Suite offers a tremendous value for the world-class technology it includes.
The LEADTOOLS DVD Module extends the LEADTOOLS Multimedia toolkit by adding functionality for programmatically creating, capturing, authoring, burning, and playing DVD images and discs. The module includes everything developers need for working with DVD multimedia including a DVD writer to create images, DVD burner, menu navigator, MPEG-2 and MPEG-1 multiplexers, MPEG Audio encoder, MPEG-2 video codec (Encoder/Decoder), several DirectShow Filters & Media Foundation Transforms to resize and crop videos, and the ability to extract DVD metadata.
The LEADTOOLS Streaming Module is perfect for developers who need to stream audio and video across the Internet or corporate networks. This module adds on to the LEADTOOLS Multimedia SDK and offers a programmer-friendly set of tools for creating a wide variety of client/server applications including video conferencing, security/surveillance, IIS Smooth Streaming, Windows Media Server and more. In addition to the SDK features, the Streaming Module bundles together several of LEAD's world-class audio and video codecs which will reduce costs and improve user experience through reduced bandwidth requirements and high-quality playback.
The LEADTOOLS MPEG-2 Transport Module adds advanced MPEG-2 Transport and MPEG-2 Program streaming, playback, capture and conversion capabilities to the LEADTOOLS Multimedia SDK. Developers can utilize robust UDP and TCP streaming with DVR and KLV metadata to create a wide spectrum of applications including security systems, HDTV playback, and UAV ground stations.
NOTE: LEADTOOLS Multimedia Formats are very diverse and cover the gamut of multimedia features and technologies. Many formats are included with the base SDK products above, while some can be added á la carte or bundled together with various add-on modules. See the Multimedia Product Comparison Chart for more details on how to obtain each format.
LEADTOOLS Online Documentation for Multimedia Formats