LEADTOOLS Image Viewers SDK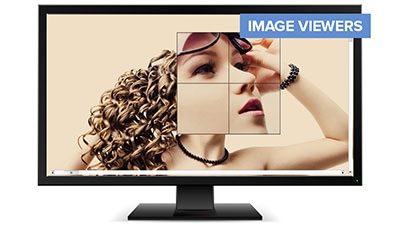 With LEADTOOLS, developers can implement image viewers in any application with its comprehensive offering of image display controls for every major desktop, web, tablet and mobile platform. LEADTOOLS viewers include everything developers need from core features such as image display, interactive modes, thumbnails and touchscreen input to advanced display technology like HTML5, annotations, DICOM, 3D and more.
Overview of LEADTOOLS Image Viewers SDK Technology
Load and display over 150 image formats on every major software platform
Supports both mouse and multi-touch (gesture) input
Interactive Modes Include:

Center at Point
Magnifying Glass
Pan
Pinch and Zoom
Rubber Band
Scale
Zoom to Rectangle

Thumbnail preview for multi-page image formats
Animate multi-frame images
Layout manager for viewing multiple viewer controls within a single window
Automated pan window control
Region of interest support
Drag and drop
Improve loading and display efficiency for large images with Tiled Image Display
Anti-alias scaled color images to improve quality
Double buffered painting for smooth scrolling
Automatically dither images to match the display device
Display images based on physical and logical units
Adjust display intensity, contrast and gamma
Draw on the image or display surface
Low-level functions to manually control repainting
Render images with multiple drawing engines including GDI/GDI+, SVG and XAML
Specialized Document Image Viewers Technology
Specialized Medical Image Viewers Technology
Specialized Vector Image Viewers Technology
LEADTOOLS SDKs support the display of 2D and 3D vector images.
Broad range of primitive objects supported
Rotate on any axis, pan, scale, zoom and translate
Other LEADTOOLS SDK Technologies Related to Image Viewers SDK Technology
LEADTOOLS Online Documentation for Image Viewers SDK Technology