ICR SDK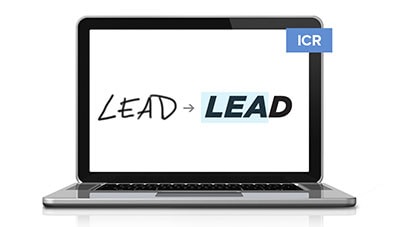 LEADTOOLS provides fast and accurate Intelligent Character Recognition SDK technology for .NET (C# & VB), C/C++, WinRT, iOS, OS X, Java and Web developers. Leverage LEADTOOLS' high-level ICR toolkit to rapidly develop robust, high-performance recognition applications which incorporate features and benefits such as extracting hand-written text from scanned documents, saving time and money over manual data entry, and converting images to text-searchable formats such as PDF, PDF/A and Microsoft Word.
Free Live Online Demo - Click here to see LEADTOOLS OCR in action
Overview of LEADTOOLS ICR SDK Technology
Fast, accurate and reliable intelligent character recognition of handwritten text for use in any application or environment

Large volume document batch processing
Single and multi-page documents
Web and Cloud applications

Comprehensive multi-thread support for maximum performance
Fully-featured SDK

High-level classes for one-shot recognition from image to final document
Low-level functionality for full customization

Spell checking and dictionary support
Automatically detect, segment and recognize multiple languages on the same document
Full page analysis and Zonal recognition
Unique color and bitonal image recognition for scanned documents and pictures
Automatic document cleanup

Omni-directional noise removal
Undither text
Dot matrix correction
Option to remove lines from tables

Automatic document preprocessing

Deskew of scanned document
Detect and correct the orientation of the document (flipped or reversed) with multi or single-page modes

Fully configurable recognition engine

Narrow down possible results with character and numeric filters
Multiple voting techniques for enhanced accuracy
Trace and progress callbacks
Enable/Disable font characteristics for fast text only recognition

Comprehensive reporting for text results

Character location, size and baseline
Character attributes (end of word, end of line, end of paragraph, etc.)
Font properties (monospace, proportional, serf, sans-serif, bold, italic, underline, strikethrough)
Confidence values
Obtain the recognized words directly for a zone or page without saving to an external document

Output searchable text document formats such as PDF, PDF/A, DOC, DOCX, XML, XPS and more, maintaining the original look and feel

Text with detected font characteristics (font-family name, style, size, bold, italic, underline and strikeout etc.)
Location
Tables reconstruction
Layout
Graphics

Integrates seamlessly with LEADTOOLS Forms Recognition and Processing
Implement large scale distributed ICR applications using LEADTOOLS Distributed Computing SDK
Automatic Zone Recognition
Automatically segments an image into various zones which can improve recognition accuracy and efficiency
Manual Zone Recognition
Allow the user to draw and recognize text from specific regions of interest
Zone Types
Paragraph
Text
Numeric
Table
MICR
Graphic
Other LEADTOOLS SDK Technologies Related to ICR
LEADTOOLS SDK Products that Include ICR SDK Technology
Hover over each product for a description. Click for more details.
The LEADTOOLS Professional ICR Module adds adds methods and classes for incorporating intelligent character recognition (ICR) and optical character recognition (OCR) technology into applications and includes everything programmers need to develop robust, high performance and scalable image recognition solutions. The LEADTOOLS Professional ICR Module includes the LEADTOOLS Professional OCR Module and seamlessly integrates with LEADTOOLS SDKs in the Document and Medical product lines.