DVR SDK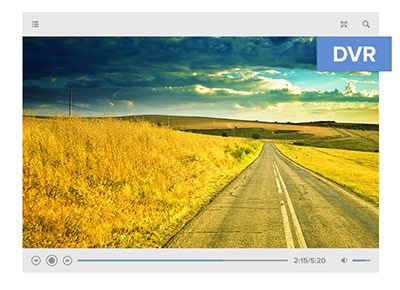 With LEADTOOLS DVR SDK technology, .NET (C# & VB) and C/C++ developers can create true DVR applications and security systems capable of pausing, rewinding and fast-forwarding live sources. Any source supported through DirectShow can be integrated with DVR technology including web cams, TV tuners and network streams (UDP or TCP/IP).
Overview of LEADTOOLS DVR SDK Technology
Pause, rewind, jump to live on any live source including web cams, TV tuners, and network streams (UDP or TCP/IP)
Complete control of DVR buffer files including maximum number of files, the maximum size of each file, and how many disks the files can span
Convert DVR buffers to any supported format including DVD
Supports both MPEG-2 Program and Transport Streams
Supports DirectShow video and audio processing filters and transforms to customize the capture, conversion or playback
Includes .NET (C# & VB) and C DLL libraries for 32 and 64-bit development
Other LEADTOOLS SDK Technologies Related to DVR
LEADTOOLS SDK Products that Include DVR SDK Technology
Hover over each product for a description. Click for more details.
The LEADTOOLS Multimedia Suite SDK is a comprehensive collection of multimedia development technology that provides developers with everything they need to create enterprise-level multimedia applications for a wide variety of industries including defense, broadcast, security and more. By bundling features from the Multimedia SDK, DVD Module, Streaming Module, MPEG-2 Transport Module, Imaging Pro SDK and Distributed Computing SDK, Multimedia Suite offers a tremendous value for the world-class technology it includes.
The LEADTOOLS MPEG-2 Transport Module adds advanced MPEG-2 Transport and MPEG-2 Program streaming, playback, capture and conversion capabilities to the LEADTOOLS Multimedia SDK. Developers can utilize robust UDP and TCP streaming with DVR and KLV metadata to create a wide spectrum of applications including security systems, HDTV playback, and UAV ground stations.
LEADTOOLS Online Documentation for DVR Technology