Multimedia Playback SDK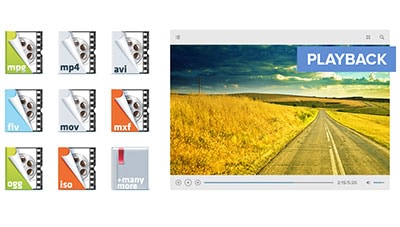 With LEADTOOLS, developers can add audio and video playback into their .NET (C# & VB) and C/C++ applications for DirectShow and Media Foundation. LEADTOOLS offers a full range of flexible multimedia playback functionality for controlling playback speeds, setting preferred decoders, applying processing filters, and more. All of which can be done for any multimedia stream including files, discs and network streams.
Overview of LEADTOOLS Multimedia Playback SDK Technology
Play audio and video from any source

File
Memory
Network
DVD
Live TCP or UDP Stream

Play any format using any DirectShow or Media Foundation demultiplexer and codec
Pause and record live video streams with DVR
Control playback speed
Set preferred decoders, demultiplexers and renderers to use in playback filter graph
Apply DirectShow or Media Foundation audio and video processing filters and Transforms during playback
Capture and save still images to disk or memory from the video stream with frame precision
Set start and end frame for clipping playback
Zoom video during play
Implement custom video renderers
Select hardware devices to use for playback
Save player settings to file or stream
Get content and tag information
Retrieve DVD metadata information
Navigate and play from DVDs
Read and seek DV timecode data
Includes .NET (C# & VB) and C DLL libraries for 32 and 64-bit development
Other LEADTOOLS SDK Technologies Related to Multimedia Playback
LEADTOOLS SDK Products that Include Multimedia Playback SDK Technology
Hover over each product for a description. Click for more details.
LEADTOOLS Multimedia SDK is specifically designed for the development of audio/video applications across a wide variety of industries including defense, broadcast and security. The SDK offers a full range of technologies to developers and turns normally complex DirectShow & Media Foundation projects into simple tasks. Integrating core multimedia functionality such as playback, capture, conversion and processing into applications is easier than ever before with LEADTOOLS Multimedia.
The LEADTOOLS Multimedia Suite SDK is a comprehensive collection of multimedia development technology that provides developers with everything they need to create enterprise-level multimedia applications for a wide variety of industries including defense, broadcast, security and more. By bundling features from the Multimedia SDK, DVD Module, Streaming Module, MPEG-2 Transport Module, Imaging Pro SDK and Distributed Computing SDK, Multimedia Suite offers a tremendous value for the world-class technology it includes.
The LEADTOOLS Medical Multimedia Module includes the LEADTOOLS Multimedia SDK and a collection of state-of-the-art DirectShow filters and Media Foundation Transforms for compressing and decompressing video and audio data within DICOM files. This feature-rich product is designed to eliminate the complexity from converting cine images and video streams to DICOM objects including X-ray Angiography (XA), Ultrasound (US), Visible Light (VL), Secondary Capture (SC) and much more. The LEADTOOLS Medical Multimedia Module utilizes the most advanced compression algorithms used in the industry and approved by the DICOM standard including MPEG-2, HD MPEG-2, Motion JPEG and Motion JPEG 2000.
LEADTOOLS Online Documentation for Multimedia Playback