HTML5 / JavaScript Imaging SDK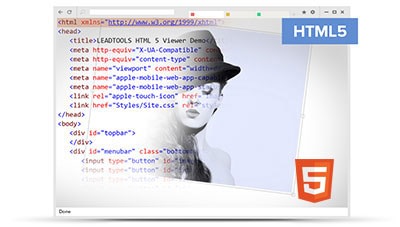 Web developers using LEADTOOLS HTML5 and JavaScript libraries can create zero-footprint, cross-platform applications with document, medical and raster imaging functionality. Developers can target desktops, tablets and mobile devices such as iPad, iPhone, Android, with a single application featuring robust image display and processing, support for mouse and multi-touch gesture input, annotations and much more.
Click here to see the LEADTOOLS HTML5 demos online.
Click here to watch a video of the HTML5 Viewer.
Overview of LEADTOOLS HTML5 and JavaScript Imaging SDK Technology
Other LEADTOOLS SDK Technologies Related to HTML5 and JavaScript Imaging SDK Technology
LEADTOOLS SDK Products that Include HTML5 and JavaScript Imaging SDK Technology
Hover over each product for a description. Click for more details.
LEADTOOLS Pro Suite is a an extensive bundle in the LEADTOOLS Pro line of SDKs and includes HTML5 Zero-footprint image viewers, barcode detect/read/write, advanced PDF read/write/view/edit, 150+ image formats, image compression, image processing, image viewers, imaging common dialogs, 200+ display effects, TWAIN and WIA scanning, screen capture and printing. Developers using LEADTOOLS Pro Suite can develop robust imaging applications and solutions at a fraction of the cost of similar feature sets found elsewhere on the market.
The LEADTOOLS Document Imaging Suite SDK is a comprehensive collection of LEADTOOLS SDK features designed to build end-to-end document imaging applications within enterprise-level document automation solutions that require OCR, MICR, OMR, ICR, barcode, forms recognition and processing, PDF, HTML5 Zero-footprint viewing, print capture, archival, annotation and display functionality. This powerful set of tools utilizes LEAD's award-winning image processing technology to intelligently identify document features that can be used to recognize and extract data from any type of scanned or faxed form image.
Develop powerful PACS and Medical imaging applications with LEADTOOLS Medical Imaging Suite. Features include Zero-footprint HTML5 DICOM Viewer, Medical Web Viewer Framework, Medical 3D, DICOM Multimedia codecs, high and low-level PACS SCP and SCU functions and controls, secure PACS communication, Print to PACS, comprehensive DICOM data set support, image annotation, extended grayscale image display such as window level and LUT processing, and specialized medical image processing. Other features include lossless JPEG compression, JPIP, and signed and unsigned image data processing.
LEADTOOLS Online Documentation for HTML5 and JavaScript Imaging SDK Technology