MPEG-2 Transport SDK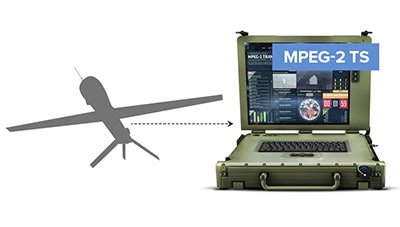 With LEADTOOLS MPEG-2 Transport Stream SDK technology, developers can add complete support for one of the most popular multimedia formats today. MPEG-2 Transport stream technology is used in digital television, unmanned aerial vehicles (UAV), Blu-ray media and more, and supports MPEG-2, MPEG-4, H.265 and H.264 encoded video.
Overview of LEADTOOLS MPEG-2 Transport SDK Technology
Compatible with all MPEG-2 Transport encoded data including MPEG-2, MPEG-4, H.265, H.264, AAC, AC3, LPCM and MPEG Audio
Handles corrupt data often found in some MPEG-2 Transport streams with no interruption
Create and parse any KLV data to create implementations of specifications such as:
Add KLV metadata in synchronous or asynchronous modes (MISB STD 0601.4 4 March 2010, MISB STD 0902.1)
Automatically insert and verify CRC32 error detection checksums
Seek in byte mode to provide more control over the seeking process especially in files with bad or corrupted timestamps
UDP Streaming can be with or without RTP packets
Monitor receipt of data from multiple streams for synchronized playback
Set threshold to control playback drift or lag of live streams — important for applications such as remote UAV control that require the end user to be sure that what is seen is in real time
Create and receive live MPEG-2 Transport compliant streams
Create MPEG-2 Transport streams compatible with the TV broadcast requirements
Manually set PID of each stream
Includes .NET (C# & VB) and C DLL libraries for 32 and 64-bit development
Other LEADTOOLS SDK Technologies Related to MPEG-2 Transport
LEADTOOLS SDK Products that Include MPEG-2 Transport SDK Technology
Hover over each product for a description. Click for more details.
The LEADTOOLS Multimedia Suite SDK is a comprehensive collection of multimedia development technology that provides developers with everything they need to create enterprise-level multimedia applications for a wide variety of industries including defense, broadcast, security and more. By bundling features from the Multimedia SDK, DVD Module, Streaming Module, MPEG-2 Transport Module, Imaging Pro SDK and Distributed Computing SDK, Multimedia Suite offers a tremendous value for the world-class technology it includes.
The LEADTOOLS MPEG-2 Transport Module adds advanced MPEG-2 Transport and MPEG-2 Program streaming, playback, capture and conversion capabilities to the LEADTOOLS Multimedia SDK. Developers can utilize robust UDP and TCP streaming with DVR and KLV metadata to create a wide spectrum of applications including security systems, HDTV playback, and UAV ground stations.
The LEADTOOLS Medical Multimedia Module includes the LEADTOOLS Multimedia SDK and a collection of state-of-the-art DirectShow filters and Media Foundation Transforms for compressing and decompressing video and audio data within DICOM files. This feature-rich product is designed to eliminate the complexity from converting cine images and video streams to DICOM objects including X-ray Angiography (XA), Ultrasound (US), Visible Light (VL), Secondary Capture (SC) and much more. The LEADTOOLS Medical Multimedia Module utilizes the most advanced compression algorithms used in the industry and approved by the DICOM standard including MPEG-2, HD MPEG-2, Motion JPEG and Motion JPEG 2000.
LEADTOOLS Online Documentation for MPEG-2 Transport SDK Technology