AIIM is the international authority on Enterprise Content Management (ECM). It maintains a knowledge base of best-practices, tools, and technologies that capture, manage, store, preserve, and deliver content in support of business processes.

Medicor Imaging, a division of LEAD Technologies, Inc., was created to provide the medical imaging community with products and professional services that help facilitate a more rapid transition into the digital era.

Eastman Kodak leads the way with award winning digital imaging products and online printing services to make photography simpler. Eastman Kodak is not only known for consumer photography, but also for  digital technologies that combine information and images together to create new medical, business, entertainment, and scientific applications.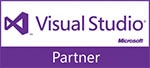 Find information on the various ways to customize, extend, and integrate with the Visual Studio environment including macros, add-ins, and VSIP Partner offerings. Whether you are building large scale commercial tools or just personalizing your Visual Studio experience, the Visual Studio Extensibility Center is Microsoft's primary source for information and guidance.

The mission of the Radiological Society of North America is to promote and develop the highest standards of radiology and related sciences through education and research.

HIMSS is a global, cause-based, not-for-profit organization focused on better health through information technology (IT). HIMSS leads efforts to optimize health engagements and care outcomes using information technology.

Fujitsu is a leading provider of IT-based business solutions for the global marketplace. Fujitsu combines a worldwide corps of systems and services experts with highly reliable computing and communications products and advanced microelectronics to deliver added value to customers.