Feature Description
Developers can capture printer output from any application that can print by using LEADTOOLS Virtual Printer technology in .NET (C# & VB) and C/C++ applications. The Virtual Printer driver produces the output as EMF which provides substantial flexibility and enables print jobs captured by the LEADTOOLS Virtual Printer to be converted to document formats such as PDF, Word DOC and text, as well as any of the 150+ raster image formats supported by LEADTOOLS.
Overview of LEADTOOLS Virtual Printer SDK Technology
Capture output from any application including Word, Excel and web browsers
Supports more than 150 output image formats including TIFF, JPEG, JPEG 2000, JPEG and PNG
Redirect print jobs to email, disk, memory, database and SharePoint
Automate workflows by creating multiple task-based virtual printers
Create a Print to PACS solution
32 and 64-bit programmable virtual printer driver
Add to any single or multithreaded application
Network and Internet Printing Support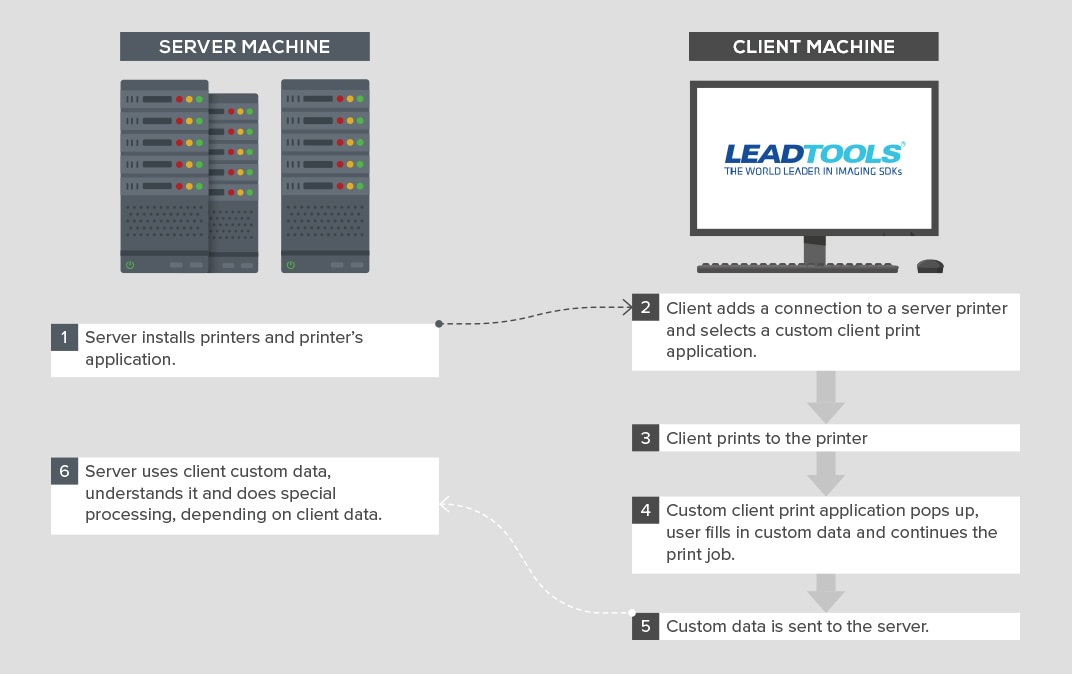 The LEADTOOLS Virtual Printer SDK also includes a network printing mechanism which allows developers to take advantage of all the powerful features of the LEADTOOLS Virtual Printer shared across any network. Programmers can easily create custom network and web-based client-server printing applications, utilizing robust, dynamic and lightweight client-print modules.
Features and benefits of using the LEADTOOLS Network Virtual Printer include:
Simplified distribution of network-printing applications among many clients
Full support for Microsoft Internet Printing Protocol (IPP)
Provides a mechanism to create dynamic printer server and client applications
Easily create multiple print server and client applications
Lightweight distribution requires a smaller footprint on each client
Fully-customizable network communication to send and receive user-defined data
Unique way to capture documents and metadata and incorporate into business workflow
Control business printing logic from a central location
Implement private and public shared printers
Technology Related to Virtual Printer