LEADTOOLS DVR SDK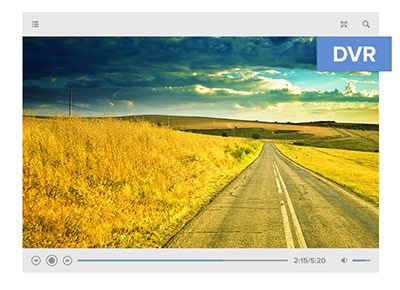 With LEADTOOLS DVR Technology, developers can create true DVR applications and security systems capable of pausing, rewinding and fast-forwarding live sources. These sources include web cams, TV tuners, and network streams (UDP or TCP/IP).
Overview of LEADTOOLS DVR SDK Technology
Pause, rewind, jump to live on any live source including web cams, TV tuners, and network streams (UDP or TCP/IP).
Complete control of DVR buffer files including maximum number of files, the maximum size of each file, and how many disks the files can span.
Convert DVR buffers to any supported format including DVD.
Supports both MPEG2 Program and Transport Streams.
Supports DirectShow video and audio processing filters and transforms to customize the capture, conversion or playback.
32 and 64-bit binaries.
Download the free evaluation of LEADTOOLS Multimedia SDK with DVR Technology that includes:
The LEADTOOLS DVR Sink filter uses LEAD's intelligent time-shifting algorithm to write live video/audio streams to disk for playback. Developers have complete control of the buffer size including support to have the buffer span more than one disk.
The LEADTOOLS DVR Source filter reads video and audio streams from files created by the LEADTOOLS DVR Sink filter. With the DVR Source filter, the LEADTOOLS Player control can play, pause, rewind and fast forward live streams.
LEAD MPEG-2 Multiplexer
Create MPEG-2 program files.
Supported video compressions:

MPEG1 (ISO/IEC 11172-2)
MPEG2 (ISO/IEC 13818-2)
MPEG4 (ISO/IEC 14496-2)
H.264 (ISO/IEC 14496-10)

Supported audio compressions:

MPEG-1 (ISO/IEC 11172-3)
AC3 (preferred audio compression for DVDs)
LPCM (uncompressed DVD audio)
AAC (preferred audio compression for MP4)
LEAD MPEG-2 Demultiplexer
Parses the following streams:

MPEG-2 Program specified in ISO/IEC 13818-1
MPEG-1 System specified in ISO/IEC 11172-1
Elementary stream data (also known as raw video or raw audio data)

Supported video compressions:

MPEG1 (ISO/IEC 11172-2)
MPEG2 (ISO/IEC 13818-2)
MPEG4 (ISO/IEC 14496-2)
H.264 (ISO/IEC 14496-10)

Supported audio compressions:

MPEG-1 (ISO/IEC 11172-3)
AC3 (preferred audio compression for DVDs)
LPCM (uncompressed DVD audio)
AAC (preferred audio compression for MP4)
Easily create 1080 and 720 HDTV video.
MPEG-1 and MPEG-2 streams.
Low, main & high profiles implementation.
Inter-prediction accuracy of 1/2 pixel.
Preprocessing frame-rate adjustment.
Fixed and variable bit rate compression options with a wide range of quality factors.
Preset compression options for VCD, SVCD and DVD.
Supports linear and nonlinear quantization.
Supports frame rate adjustment.
Delivers 3 output formats: MP4V (standard), LMP4, and XVID. LMP4 is LEAD's proprietary MPEG-4 video and includes options to achieve better compression performance.
Configurable motion estimation.
Mechanism for smoother playback of corrupted video data.
LEAD's super compression option uses H.264 standard compression in an innovative way to produce super small streams using less resources when compared to other H.264 encoders. With this "super" performance it is possible to stream H.264 compatible videos in real time without additional hardware or excessive CPU usage making the super compression option ideal for video conference applications.
Play high definition formats (720p and 1080i) in real time.
User definable motion estimation settings controls the balance between encoder speed and quality.
Multiple reference frames of any combination of past and future frames, providing precise interprediction as well as improved robustness during packet loss while streaming over the network or Internet.
Unrestricted motion search uses reference frames that may be partly outside the frame improving network performance by predicting missing data.
Only the difference between motion vectors is saved, increasing the compression ratio.
Intraprediction may be performed either on 4x4 blocks or 16x16.
Motion vector prediction is performed before the frame is prepared for compression (pre-DCT) improving prediction and compression performance.
A context-sensitive deblocking filter smoothes out internal edges, significantly improving the visual quality of the video.
Employs Context-Adaptive Variable Length Coding (CAVLC) to encode transform coefficients.
The Context-Adaptive Binary Arithmetic Coding (CABAC) method continually updates frequency statistics of the incoming data and adaptively adjusts the algorithm, improving compression performance.
Control of the number of frame types encoded into the video stream.
Supports both variable and constant bitrates.
Output channels selection.
Surround feature.
Supports both versions of AAC, MPEG-4 and MPEG-2.
Supports Low Complexity, Main, and Long Term Prediction profiles.
Supports 2 stream formats; Raw and ADTS.
Output sample frequency selection.
Cut-off frequency option.
Optionally force stereo output.
The Frame Rate Control filter provides changes the frame rate of the passing video stream.
Play, convert or capture only a specific rectangular area within the video.
Deinterlaces video with a pattern, deinterlaces only a region of interest (rectangle), and specifies segments in the video to deinterlace and how to deinterlace the segment (no deinterlace, interlace, deinterlace with pattern). Includes an "Auto Deinterlace" option to check the video for interlacing and apply deinterlacing only if necessary.
Resizes the video by adjusting the width and height of the frames using normal resize, resample bilinear, bicubic or Bresenham interpolation.
Flips, reverses, rotates video 90, 180, and 270 degrees. Very useful when certain devices capture video in a rotated state.
LEADTOOLS Multimedia SDK with DVR Technology Download
Other LEADTOOLS SDK Technologies Related to DVR
LEADTOOLS SDK Products that Include DVR SDK Technology
Hover over each for information. Click to go to more details.
The Multimedia Suite SDK is a comprehensive collection of multimedia development technology from LEAD Technologies. By bundling features from the Multimedia SDK, DVD Module, Video Streaming Module, MPEG-2 Transport Module, Imaging Pro SDK and Distributed Computing SDK, the Multimedia Suite provides everything a developer needs to create enterprise level multimedia applications for a wide variety of industries including defense, broadcast, security and more.
The LEADTOOLS MPEG-2 Transport Module includes DirectShow filters & Media Foundation Transforms to create and play MPEG-2 Transport and MPEG-2 Program streams. Quickly convert from one file format to another without recompression such as MP4 to MPEG2. The LEADTOOLS MPEG-2 Transport Module is able to stream data over UDP and TCP with option RTP packets as well as utilizing RTSP servers and DVR.
LEADTOOLS Online Documentation for DVR Technology