LEADTOOLS Multimedia Conversion SDK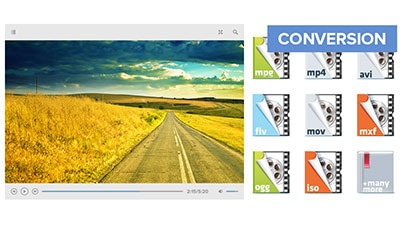 LEADTOOLS Multimedia SDKs provide developers with all the tools they need to create powerful applications capable of converting to and from all of the most popular formats today. Whether you are transcoding for archival, internet streaming, or for mobile compatibility, LEADTOOLS makes it easy!
Overview of LEADTOOLS Multimedia Conversion SDK Technology
Convert any of the supported playback file formats to AVI, MPEG-2, MPEG-1, ISO (Flash HD, MP4, 3GPP, AAC, AVC1, MOV, FLV), XVID, ASF, WMV, WAV, WMA, OGG, Matroska (MKV, WebM), MXF, IIS Smooth Streaming, and more
Quickly convert from one file format to another without recompression such as MP4 to MPEG2
Supports DirectShow and Media Foundation video and audio processing filters and transforms to customize the conversion
Add KLV metadata to an output MPEG-2 transport stream
Split large files into multiple, smaller pieces for distributed conversion and merge the results with no loss
Distribute conversion tasks or portions of files using the Distributed Computing SDK
Convert specific chapters or titles using the LEADTOOLS DVD Navigator
Join multiple files or split a larger file into multiple smaller files
Join multiple audio streams using LEAD's Audio Mixer Filter
Create videos from a series of still images, or create still images from a video
Preview the current frame being converted
Pause and resume conversion process
Load and save conversion settings
Convert closed captioning information to readable formats such as SubRip (SRT) or Text
Multiple types of IO supported for conversion including disk, memory, network stream, and custom source filters
Output directly to DV
Conversion logging options
Retrieve progress notifications during the conversion process
Calculate the estimated conversion output size prior to starting the conversion
Includes C DLL and .NET (C# & VB) for 32 and 64-bit development
A few examples of applications that take advantage of the above functionality:
Create Windows Movie Maker type applications including powerful multimedia editing/creating functionality. LEAD's extensive set of processing filters will provide you with just the right filter for every task.
Create applications to take existing videos and re-compress them for playback on most mobile devices such as the iPod, PSP, Zune, ZEN, Mobile Phones, and Windows Phone.
Create applications to convert still images created by a digital camera into a movie.
Create applications for joining multiple smaller videos into a single large video and vice versa.
Create applications to capture music and videos from the Internet and save them to file.
Other LEADTOOLS SDK Technologies Related to Multimedia Conversion
LEADTOOLS SDK Products that Include Multimedia Conversion SDK Technology
Hover for more information. Click for details.
LEADTOOLS Multimedia SDK products are specifically designed for the development of audio/video applications across a wide variety of industries including defense, broadcast and security. The SDK offers a full range of technologies to developers and turns normally complex DirectShow & Media Foundation projects into simple tasks. Easily integrate core multimedia functionality such as capture, conversion, streaming and playback into applications with optional processing filters. These filters can be applied at any point of the workflow.
The Multimedia Suite SDK is a comprehensive collection of multimedia development technology from LEAD Technologies. By bundling features from the Multimedia SDK, DVD Module, Video Streaming Module, MPEG-2 Transport Module, Imaging Pro SDK and Distributed Computing SDK, the Multimedia Suite provides everything a developer needs to create enterprise level multimedia applications for a wide variety of industries including defense, broadcast, security and more.
The LEADTOOLS Medical Multimedia Module includes the LEADTOOLS Multimedia SDK and a collection of state-of-the-art DirectShow filters and Media Foundation Transforms for compressing and decompressing video and audio data within DICOM files. This feature-rich product is designed to eliminate the complexity from converting cine images and video streams to DICOM objects including X-ray Angiography (XA), Ultrasound (US), Visible Light (VL), Secondary Capture (SC) and much more. The LEADTOOLS Medical Multimedia Module utilizes the most advanced compression algorithms used in the industry and approved by the DICOM standard including MPEG-2, HD MPEG-2, Motion JPEG and Motion JPEG 2000.
LEADTOOLS Online Documentation for Multimedia Conversion SDK Technology