MJPEG and MCMP Video Codec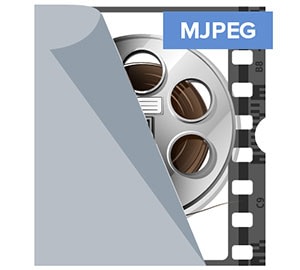 The LEAD MJPEG/MCMP Video Codec is a DirectShow codec that provides .NET (C# & VB) and C/C++ developers with real-time compression and decompression of video data. By compressing each frame individually, MJPEG and MCMP videos can enable random access to every frame as well as lossless compression. This powerful set of features gives developers the flexibility necessary to meet the requirements of a wide range of applications including video editing and streaming.
Overview of LEADTOOLS MJPEG and MCMP Video Codec Technology
Full support for encoding and decoding JPEG or CMP-compressed video data

LEAD-proprietary MCMP delivers smaller file sizes than MJPEG with the same or better image quality

Real-time software-only compression and decompression of full-motion video
Preserve critical image data with lossless compression
Options for controlling ratio of file size and image quality
Play or create JPEG type B streams found in QuickTime videos
Play or convert live HTTP streams
Read/write hardware compatible MJPEG files
Supports 16-bit grayscale video
Includes .NET (C# & VB) and C DLL libraries for 32 and 64-bit development
What is MJPEG?
Motion JPEG, or MJPEG, is a video adaptation of the JPEG standard for still photos. It simply treats a video stream as a series of still photos, compressing each individually, with no interframe compression. Because it uses no interframe compression, it is ideal for editing.
What is MCMP?
MCMP, or Motion CMP, is a video adaptation of LEAD's proprietary CMP compression code. MCMP delivers smaller file sizes and can maintain better image quality than MJPEG with the same or better image quality.
Other LEADTOOLS SDK Technologies Related to MJPEG and MCMP Video Codec Technology
LEADTOOLS SDK Products that Include the LEADTOOLS MJPEG and MCMP Video Codec Technology
Hover over each product for a description. Click for more details.
The LEADTOOLS Multimedia Suite SDK is a comprehensive collection of multimedia development technology that provides developers with everything they need to create enterprise-level multimedia applications for a wide variety of industries including defense, broadcast, security and more. By bundling features from the Multimedia SDK, DVD Module, Streaming Module, MPEG-2 Transport Module, Imaging Pro SDK and Distributed Computing SDK, Multimedia Suite offers a tremendous value for the world-class technology it includes.
The LEADTOOLS Streaming Module is perfect for developers who need to stream audio and video across the Internet or corporate networks. This module adds on to the LEADTOOLS Multimedia SDK and offers a programmer-friendly set of tools for creating a wide variety of client/server applications including video conferencing, security/surveillance, IIS Smooth Streaming, Windows Media Server and more. In addition to the SDK features, the Streaming Module bundles together several of LEAD's world-class audio and video codecs which will reduce costs and improve user experience through reduced bandwidth requirements and high-quality playback.
The LEADTOOLS MPEG-2 Transport Module adds advanced MPEG-2 Transport and MPEG-2 Program streaming, playback, capture and conversion capabilities to the LEADTOOLS Multimedia SDK. Developers can utilize robust UDP and TCP streaming with DVR and KLV metadata to create a wide spectrum of applications including security systems, HDTV playback, and UAV ground stations.
The LEADTOOLS Medical Multimedia Module includes the LEADTOOLS Multimedia SDK and a collection of state-of-the-art DirectShow filters and Media Foundation Transforms for compressing and decompressing video and audio data within DICOM files. This feature-rich product is designed to eliminate the complexity from converting cine images and video streams to DICOM objects including X-ray Angiography (XA), Ultrasound (US), Visible Light (VL), Secondary Capture (SC) and much more. The LEADTOOLS Medical Multimedia Module utilizes the most advanced compression algorithms used in the industry and approved by the DICOM standard including MPEG-2, HD MPEG-2, Motion JPEG and Motion JPEG 2000.
NOTE: LEADTOOLS Video Codecs are very diverse and cover the gamut of multimedia features and technologies. Many codecs are included with the base SDK products above, while some can be added á la carte or bundled together with various add-on modules. See the Multimedia Product Comparison Chart for more details on how to obtain each video codec.
LEADTOOLS Online Documentation for MJPEG and MCMP Video Codec