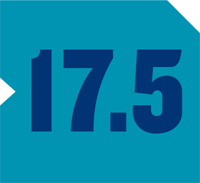 LEAD Technologies is pleased to announce the release of a major update to LEADTOOLS Version 17.5. This free upgrade, available to registered v17.5 users and LEADTOOLS annual maintenance customers, is highlighted by many new features and enhancements within the Document, Medical, Imaging, and Vector product lines.
After the successful release of HTML5 toolkits for Document and Medical imaging earlier this year, LEAD has added significant new features, enhanced the user-interface tools, and accelerated the overall performance of these toolkits. In addition to the HTML5 modules, various technologies throughout the LEADTOOLS product line were revamped and upgraded, including OCR, PDF, Barcode, Medical Viewer, DICOM, PACS, 3D, formats, and more.
What's new in the LEADTOOLS HTML5 SDKs
What's new in the LEADTOOLS Document Engine
What's new in the LEADTOOLS Medical Engine
What's new in the LEADTOOLS Imaging and Vector Engines
Click here to see a list of new features from the initial v17.5 release.