SmarThru is the accompanying software for Samsung multifunction printers (MFP). With SmarThru, you can enjoy all MFP capabilities, such as printing, scanning, copying, and fax send and receive. Additionally, it can send and receive e-mail (SMTP, POP3, IMAP4) and faxes and (optionally) work with Samsung SmartMedia flash memory card devices that are incorporated in some models of MFP. Imaging capabilities are tightly integrated with other program's parts. So one can easily scan an image, edit that image, save resulting image for further use, send to various e-mail and fax recipients, or copy it to SmartMedia card.
Main features include:
A single database is used for fax and e-mail messages storage; it simplifies maintenance of all correspondence.
Ability to send faxes from any application that supports printing. Just print your document using Fax Printer to send fax.
Mail Agent gives the possibility to automate correspondence. Mail Agent visual tools allow user to create action scenarios, which are executed automatically in variety of events, performing a batch of operations conditioned by time and message properties.
Easy-to-use scanning utility may be used instead of complex device-specific TWAIN UI program.
Address Book incorporates information about e-mail and fax addressees. Both e-mail and fax addresses may be joined into groups thus allowing one-touch sending of multiple facsimile and e-mail messages of same contents .
AnyPage OCR software, included in the package, gives you the possibility to convert scanned images into text documents, suitable for editing in your favorite text editor. You can also automatically recognize all incoming fax messages.
Internet message transfer tracking. If a recipient also uses SmarThru, then upon receiving a message, recipient's software issues notification reply to sender's address.
Image Manager is intended for storing and editing of images. A variety of effects may be applied while image editing.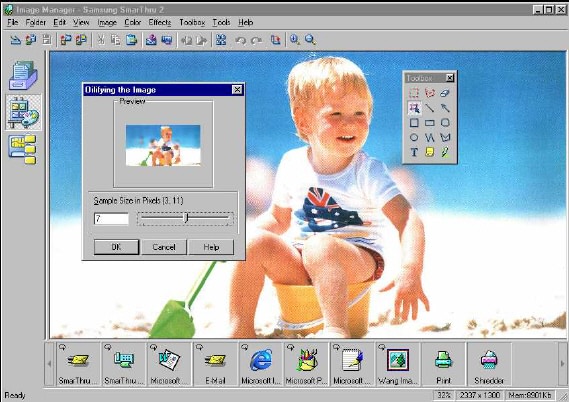 ---
'SmarThru' used LEADTOOLS Pro to incorporate general imaging capabilities.
"The use of LEADTOOLS allowed us to spend very little time writing the code for conversion between different image formats, applying filters, color conversion, etc. With LEADTOOLS we also could avoid the routine coding of scanner support. LEADTOOLS gave us the possibility to develop the outstanding imaging application with minimum time. We are satisfied by the quality of LEADTOOLS, and by the convenience of its usage. That's why we are going to use the new version of LEADTOOLS library for developing our next version of SmarThru."
- Dmitry Smirnov, Samsung Research Center