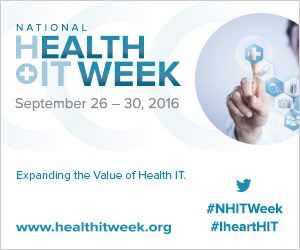 We are proud to be a part of the 11th annual National Health IT Week (September 26-30, 2016). National Health IT Week is the premier event offering all healthcare stakeholders an opportunity to unite under one banner, expressing the benefits that health information technology (IT) brings to U.S. healthcare: "One Voice, One Vision."
LEAD Technologies will join together with the other hundreds of companies around the country to celebrate progress and add to the conversation of how Health Information Technology is growing and improving people's health.
With comprehensive DICOM and PACS technology along with high-end 2D and 3D viewer controls with support for .NET, CDLL, HTML5/JavaScript, WinRT, iOS, OS X, Android and more, LEADTOOLS plays a pivotal role in advancing medical imaging applications world-wide. Additionally, Medicor Imaging, a division of LEAD Technologies, provides DICOM and PACS solutions (MiPACS) powered by LEADTOOLS, which are used world-wide in Multi-Clinic Dental Organizations, Schools, ENT Practices, Hospitals, Imaging Centers, and the US Department of Veteran Affairs. Beyond our medical product line and Medicor Imaging, the LEADTOOLS document and multimedia products also provide value to the Health IT community with superior support for OCR, Forms Recognition, Barcode, PDF, Video Streaming, and more.
Visit www.HealthITWeek.org for a full list of partners and updates on the week's activities. Working together with our growing coalition of stakeholders, LEAD Technologies is helping to transform healthcare for all.