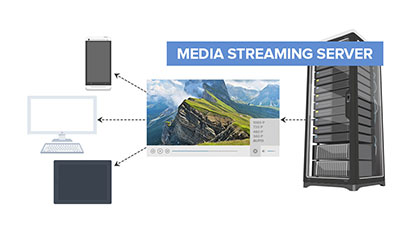 Save One File and Stream to Any Device
LEAD Technologies is pleased to announce the release of the Media Streaming Server SDK. This major addition to the LEADTOOLS Multimedia product line provides a programmer-friendly library for building professional audio/video multimedia streaming applications for playback on any device.
Media Streaming Server SDK Overview
High-level Media Streaming Server framework with minimal coding required
Place any audio/video media file on the server and stream to any client
Automatically convert videos on the fly from a single base format to minimize recompression
Configure server settings programmatically or with XML files

Supports custom, application-defined properties and settings

Monitor and manage connected users
Flexible filters and demultiplexers allow for continuous streaming with changing formats
Stream high-quality videos at Full HD 1080p resolution
Broadcast audio/video content compressed with LEADTOOLS' industry-leading compression technology
Product Line Changes
Developers can acquire the new LEADTOOLS Media Streaming Server as an add-on to LEADTOOLS Multimedia SDK or bundled with LEADTOOLS Multimedia Suite:
V19 customers who have previously purchased these products are automatically entitled to a Media Streaming Server development license free of charge. After downloading the latest Multimedia Installer from our website or the Check Setup Version utility, contact sales@leadtools.com to get a temporary development license.
Additional Updates to Multimedia Technologies
In addition to the Media Streaming Server, the following updates were made to existing features within the Multimedia product line: