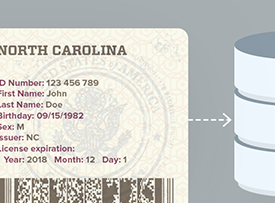 One of our favorite things to do at LEAD is be a part of making the world a better place to live through our technologies. As an SDK company, we enjoy a much broader reach than our local community since we get to be a part of many projects and ideas that our customers are coming up with. For example, LEADTOOLS DICOM and PACS technologies aren't serving just a couple local hospitals, but thousands of hospitals around the globe. That's literally hundreds of thousands, if not millions, of X-rays, CTs, MRIs, and the like displayed by LEADTOOLS.
If you have been following the news at all the past several months, it's been rather violent. In response, local governing bodies are starting to do more to increase security measures through printing and scanning ID cards for children and families that attend public events, or implementing stricter ID protocols at bars. Our sales and support teams have been getting a lot of questions about how LEADTOOLS can help these municipalities and socially aware developers with improving security.
In particular, LEADTOOLS Driver's License Recognition is a big help and can also be customized to work with any identification card such as student and child IDs. A while back, we published a white paper on how to use this incredible feature to capture information from IDs which can be used in a wide gamut of applications including the new security ideas people across the country are hungry to implement.