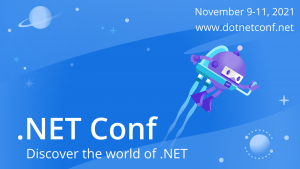 Save the date! .NET Conf 2021 is back and happening November 9th-11th. Join us and other great sponsors in learning all about .NET 6 and for your chance to win some awesome prizes!
In the meantime, be sure to check out What's New in Version 22 and see all the new features in the latest version of LEADTOOLS including our new powerful, zero-footprint HTML5/JavaScript Document Editor and our new intelligent ID Reader.
About .NET Conf 2021
.NET Conf 2021 is a free, three-day, virtual developer event to hail the launch of .NET 6.
Over the course of three days, learn all there is to know about .NET 6 from community and .NET team members. On days 2 & 3, be sure to check out the 24 hour broadcast to hear from from speakers around the world.
Ask questions live on Twitter, join the fun on Twitch, and attend the Virtual Attendee Parties where you can play trivia games for the chance to win big prizes from us and other great sponsors!
Be on the lookout for more information via social media from us and other sponsors as we get closer to the event.