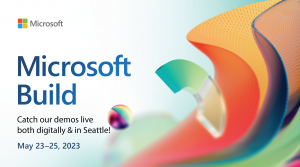 The Microsoft Build event is back May 23-25th and we are thrilled to announce that LEADTOOLS is a Featured Partner again – sponsoring the event both digitally AND in Seattle this year! Build is always the premiere developer conference and a fantastic chance for us to meet and demo LEADTOOLS face-to-face! Join other developers and tech experts (like us!) at Build to hear about all the latest advancements in technology and developer tools.
Catch a Live LEADTOOLS Demo Session!
Discover the LEADTOOLS AI-Powered Document Viewer Control: a low-code, cross-platform solution for seamless integration into any app. Join Developer Advocate, Hadi Chami as he builds a complete Document Viewer from scratch in less than 15 minutes using the LEADTOOLS SDK. He'll demonstrate how you can quickly integrate advanced features including OCR/ICR, PDF, Annotations, eSignatures, and more. See how LEADTOOLS simplifies app development and accelerates productivity while providing a consistent user experience for any file type.
May 23rd 11:00am PST
Powered by patented AI algorithms and used by thousands of developers world-wide, LEADTOOLS SDKs have helped build better apps for over 30 years. Join Sales Engineer, Travis Montgomery, as he demos the LEADTOOLS Document Viewer & Editor as well as LEADTOOLS Medical Viewer, highlighting LEAD's expertise in OCR/ICR, PDF, Forms Processing, Annotations, DICOM, PACS & more. We'll discuss various use-cases across different industries and answer questions about how LEADTOOLS will help expedite your specific application development!
If for some reason you can't make either of those live demo sessions or maybe you can but also want something to watch back later – have no fear! Hadi pre-recorded a walk through of LEADTOOLS and some of our most popular controls and demos available including the Document Viewer, Editor, eSignatures, PDF, Medical Viewer, and Forms Processing demos. He'll also dive in and code to show how quickly you can build a full-fledged Document Viewer application from scratch in less than 15 minutes using LEADTOOLS!
Free Swag in Seattle – Plus Win an Oculus Headset!
Be sure to stop by our expert meet-up space in Seattle and let us scan your badge to pick up a FREE LEADTOOLS Tote Bag. On top of that, you'll also be entered to win an Oculus VR Headset. Free swag, an awesome giveaway, and a plethora of LEADTOOLS experts to demo any piece of our toolkit that interests you!
In the meantime, be sure to download our FREE evaluation SDK to get access to our entire collection of libraries and all of our fully-sourced demos. We'd love to schedule a demo in person in Seattle or virtually anytime with our technical support team. Elevate your application development by using LEADTOOLS today!