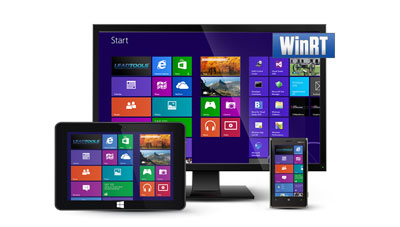 Last month, LEAD Technologies
announced a beta trial program for its up and coming LEADTOOLS WinRT Module
. This new product will be available as an add-on to any SDK in the document and medical product lines.
Since the initial release of the beta, many new features have been added including support for loading, saving, modifying and displaying DICOM Data Sets and additional file formats. The beta is still open and going strong, so take the opportunity to get a head start on writing the most powerful and compelling imaging applications Windows 8 will ever see!
Features Currently Included in the Beta
150+ Formats including

PDF & PDF/A
JPEG, JPEG LS & JPEG XR
JPEG2000
TIFF
FAX

Viewer Controls

Mouse and multi-touch input
Interactive modes including Pan, Scale, Pinch & Zoom, Magnifying Glass

Image Processing
Full DICOM Data Set Support

Read, Write and Edit any DICOM Data Set file
Window Level 8-16 bit extended grayscale images
Display Signed and Unsigned image data
Search, create, delete and modify any element or module in a DICOM data set

Convert LEADTOOLS RasterImage to / from WinRT WritableBitmap
More features are continually being added with OCR, Barcode, Annotations, PACS and more on the way. To download the beta and stay up to date on the features as they get added,
click here
.
LEADTOOLS WinRT Example on CodeProject
LEAD is providing even more opportunities for you to get ahead of the game by writing a tutorial on The CodeProject:
Image Enabled Windows Store Applications with LEADTOOLS
. This example implements the basic foundations of any image enabled application in only a few lines of code with LEADTOOLS' fully-featured, high level and programmer friendly controls and classes.
UPDATE
:
The LEADTOOLS WinRT SDK released October 26th alongside Windows 8
Thanks,
Otis Goodwin