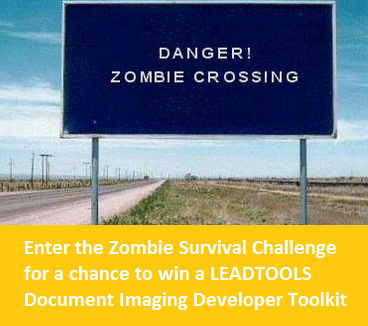 There's still one more day to put your name in the hat to win a free
LEADTOOLS Document Imaging Developer Toolkit
by submitting your Zombie Survival Programming App. In case you haven't seen our posts before, here's the official description one last time:
There's an app for everything, right? What programming app would you create if zombies started running around? How would you use your coding skills to help you survive? In conjunction with Visual Studio Live! / Live! 360
http://vslive.com/Events/Orlando-2012/Home.aspx
, LEADTOOLS is giving away a Document Imaging SDK ($2,495 value) to a lucky Zombie Survival app challenge participant!
Post your app solution in the challenge (
http://bit.ly/VSLZom
) to participate but better hurry — the contest ends on November 30th! The most liked solution wins the Document Imaging SDK.
Winner will be announced on November 30th, notified by email and needs to be present at Visual Studio Live! / Live! 360.
Enter the Challenge here:
http://www.ideedit.com/challenges/Share-Your-End-of-world-Survival-Programming