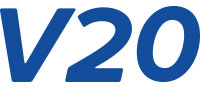 After a lot of planning, developing, and all the goodness that goes into software development, it's with great joy that we get to introduce LEADTOOLS Version 20 to you! In the first post of our two-part blog announcement, we'll cover the new ways you can develop applications with LEADTOOLS. Tomorrow we'll focus on a more comprehensive listing of all the new features and improvements you can look forward to in Version 20.
New Development Platforms
Developers can now write a unified code base and simultaneously target even more platforms and devices falling under the ever-broadening .NET Standard umbrella. Click here to see a comparison chart of all the platforms LEADTOOLS supports.
.NET Framework – Windows
.NET Standard

.NET Core – Windows, Linux, and macOS
Xamarin – iOS, Android, and UWP
UWP (Universal Windows Platform)
Cloud Services for Azure
LEADTOOLS Version 20 includes new libraries to effortlessly create imaging and recognition Cloud Services that you can consume from your application. For more information, visit the Cloud Services page.
Learn More
We'll keep writing about what's new in Version 20 in the near future so subscribe to our blog or our social accounts. You can also learn more or get started with Version 20 with the following links: