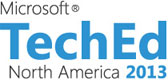 If you haven't noticed already, it's trade show season here in the US. In fact, I'm writing this post after setting up our booth at the Android Developer Conference (AnDevCon) in Boston! Next week, June 3 – 6, LEAD will be exhibiting at Microsoft's TechEd North America in New Orleans in booth #328.
We look forward to showcasing our entire document, medical, raster and multimedia imaging product lines. Not only do we have the latest and greatest imaging SDK features for all the wonderful Microsoft products featured at TechEd like .NET, Win 32/64, Windows 8, WinRT, Surface, and Windows Phones, but we also have the most powerful and versatile cross-platform imaging libraries for HTML5, iOS, OS X, Android and Linux in case you are looking to port your Microsoft apps to additional platforms.
Stop by our booth to see some live demos and presentations, receive a free USB stick with our latest evaluation, and some additional giveaways and prizes. That's a secret though, so you'll just have to come visit us and see for yourself!