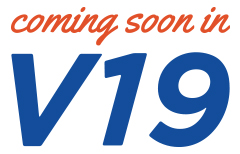 Some more exciting news to share as we continue our introduction of the upcoming updates to LEADTOOLS V19 Document and Medical technologies. These updates will include a market-first DICOM Hanging Protocol implementation as well as the fastest Form Recognition and Processing engine in the world! Additionally, the upcoming update includes new features for the HTML5 Zero-footprint Medical Web Viewer, DICOM Storage Server, Recognition Engines, Document Viewer, Document Formats, Linux, and Credit Card Reader.
Today we're talking about the new features coming to the LEADTOOLS Document Viewer:
The LEADTOOLS Document Viewer SDK is an OEM-ready, document-viewing solution for .NET (C# & VB), Java, and HTML5/JavaScript. Developers can create robust, fully featured applications with rich document viewing features, including text search, annotation, memory-efficient paging, inertial scrolling, and vector display. With only a few lines of code, the LEADTOOLS Document Viewer can be added to any project. It can be used to view raster and document formats alike, making it ideal for Enterprise Content Management (ECM), document retrieval, and document normalization solutions.
LEAD's document viewer team is working hard to add some impressive new features to the document viewer. To start, they are adding optional client-side PDF rendering, which will enhance performance and reliability while reducing server load. Further enhancing UX, printing is being added to the document viewer, complete with paper-size selection. Additionally, side by side and overlay comparison, along with Sync Viewer UI functionality will allow users to quickly find visual differences between two or more documents.
Click here to see the Pre-release Version of the Document Viewer in Action!
Click here for more information on the LEADTOOLS Document Viewer SDK Technology.
For more information or to be notified when these new features are available, contact support@leadtools.com As a reminder, this update will be available at no additional cost to all registered LEADTOOLS Version 19 and current maintenance customers. Contact LEAD to see if you are eligible to receive these updates.
Information concerning the other new features and announcements mentioned above will be provides in future posts. Stay tuned for more information!