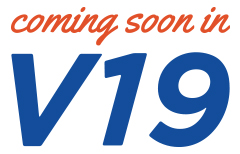 But wait, there's more! Today, we continue our introduction of the upcoming updates to LEADTOOLS V19 Document and Medical technologies. These updates will include a market-first DICOM Hanging Protocol implementation as well as the fastest Form Recognition and Processing engine in the world! Additionally, the upcoming update includes new features for the HTML5 Zero-footprint Medical Web Viewer, DICOM Storage Server, Recognition Engines, Document Viewer, Document Formats, Linux, and Credit Card Reader.
Let's dive into the new features coming to LEADTOOLS' support of several document formats:
We are enhancing several aspects of document formats support in LEADTOOLS, including faster loading, more efficient memory usage, sharpened PDF file support, and expanded Word and Excel format features. To enhance speed, they are refactoring the load algorithm, which is resulting in greatly reduced load times of document formats such as PDF, Office 97-2013 (Word, Excel, and PowerPoint), and text. Additionally, we are honing PDF features with the addition of CID-font and glyph support, faster load of very large image-based PDFs (e.g., 10,800 x 5400 images were used during tests), and are adding the ability to read security information from any PDF file. Further, we are strengthening the Word and Excel features in LEADTOOLS by adding support for images and shapes behind or in line with text, multi-column document layout, spreadsheet Scale View, 3D pie, bar, and line charts, and adding a new option to enable or disable the clipping of spreadsheet cell contents.
Click here for more information on the LEADTOOLS Documents SDK Technology.
For more information or to be notified when these new features are available, contact support@leadtools.com As a reminder, this update will be available at no additional cost to all registered LEADTOOLS Version 19 and current maintenance customers. Contact LEAD to see if you are eligible to receive these updates.
Information concerning the other new features and announcements mentioned above will be provides in future posts. Stay tuned for more information!