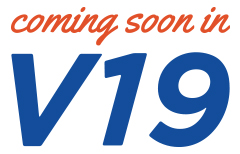 We told you this upcoming release was big, didn't we? Well today is the last post in our blog series introduction of the upcoming updates to LEADTOOLS V19 Document and Medical technologies. These updates will include a market-first DICOM Hanging Protocol implementation as well as the fastest Form Recognition and Processing engine in the world! Additionally, the upcoming update includes new features for the HTML5 Zero-footprint Medical Web Viewer, DICOM Storage Server, Recognition Engines, Document Viewer, Document Formats, Linux, and Credit Card Reader.
Here we'll focus on the new availability of the LEADTOOLS Credit Carder Reader SDK for .NET and C:
Previously only available for iOS and Android, we will make the Credit Card Reader SDK available to .NET and C programmers. LEADTOOLS Credit Card Recognition technology is a high-level framework to extract account and expiration date from credit cards. Developers can easily incorporate this technology in payment processing workflows. The Credit Card API is a great addition for LEADTOOLS customers utilizing other recognition technologies such as MICR, OCR, and Driver's License Recognition to build a full-scale payment processing solution that can handle a wide variety of payment methods.
Click here for more information on the LEADTOOLS Credit Card Reader.
For more information or to be notified when these new features are available, contact support@leadtools.com As a reminder, this update will be available at no additional cost to all registered LEADTOOLS Version 19 and current maintenance customers. Contact LEAD to see if you are eligible to receive these updates.
We hope you've enjoyed learning about what's just ahead on the horizon for LEADTOOLS. Stay tuned for more information on when these updates are released and available to you!