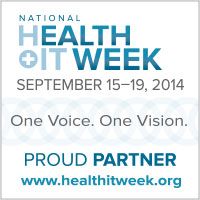 Once again, LEAD Technologies is proud to be a part of the 9th annual National Health IT Week (September 15 – 19, 2014). Last year, over 375 organizations participated and 2014 is projected to have over 400 partners. LEAD Technologies joins with the other hundreds of companies around the country to celebrate progress and add to the conversation of how Health Information Technology is growing and improving people's health.
At its core, healthcare is performed by the many great doctors, nurses, EMTs, radiologists, and more that are directly serving their patients. However, every great front-line worker has a great supporting cast, within which Health IT gets to play a major role. The successful application of medicine and care is greatly enhanced through Electronic Health Records (EHR), Picture Archival and Communication Systems (PACS), advanced imaging technologies, infrastructure and so on. These important pieces of the overall healthcare system provide improved patient safety, fewer medical errors, earlier detection, and stronger patient/provider relationships.
LEAD Technologies' Contribution to the Healthcare Industry
LEAD Technologies, Inc. provides a variety of products and services that are advancing Health IT.
LEADTOOLS Medical Imaging SDKs
Our primary product, LEADTOOLS, is a family of imaging toolkits for Medical, Document, Raster and Multimedia imaging. Our Medical Imaging, PACS Imaging, and Medical Imaging Suite developer toolkits are revered as some of the most heavily awarded, programmer-friendly, fully-featured and best-selling toolkits in the world. With comprehensive DICOM and PACS technology along with high-end 2D and 3D viewer controls with support for .NET, CDLL, HTML5 / JavaScript, WinRT, iOS, OS X, Android and more, LEADTOOLS lives up to its reputation as the World Leader in Imaging SDKs.
Beyond our medical product line, the document and multimedia products we provide have their place in Health IT as well. OCR, Forms Recognition, Barcode, PDF, Video Streaming and more are all part of a global healthcare infrastructure that is more organized, digital and connected than ever before.
Medicor Imaging
Medicor Imaging is a division of LEAD Technologies created to provide the medical imaging community with products and professional services that will help facilitate a more rapid transition into the digital era. Powered by LEADTOOLS, Medicor Imaging's DICOM and PACS solutions (i.e. MiPACS) are used world-wide in Multi-Clinic Dental Organizations, Schools, ENT Practices, Hospitals, Imaging Centers and the US Department of Veteran Affairs.