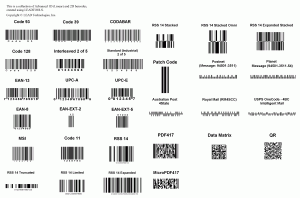 There used to be a time when barcodes were used for one thing: checking out at the grocery store. Nowadays you can hardly go anywhere without seeing one; the technology emerged and we see them used for tracking, inventory control, marketing, forms identification, on driver's licenses, and much more. I once came across a mobile application that allowed you to scan the barcode on any item, and return both its local and online prices. With the many types of
1D
and
2D
barcodes, the possibilities are endless!
LEADTOOLS has more than ten years of expertise in reading and writing barcodes. Contrary to what one may think, all barcode engines are not created equally. Important factors programmers consider include speed, accuracy, ease of use and ability to read noisy or damaged barcodes. LEADTOOLS provides the fastest, most accurate, and easy to use barcode SDK available today. Our high-level toolkit allows you to extract the barcode data from any image in less than five lines of code. It comes in a variety of platforms for desktop, web and mobile so regardless of your development preference, LEADTOOLS can help you add barcode reading and writing functionality to your application.
Would you like to learn more about the
LEADTOOLS Barcode SDK
? Check out our
Code Project article
where we talk about a few more features, and provide sample code for reading barcodes.
Thanks,
Otis Goodwin