After more than 20 years of working for a company that produces the leading document imaging SDK and a card carrying member of AIIM, I finally decided that it was time to personally go paperless. There are many motivations behind this decision, including reducing clutter, better protection for my data, and better access to information when and where I need it.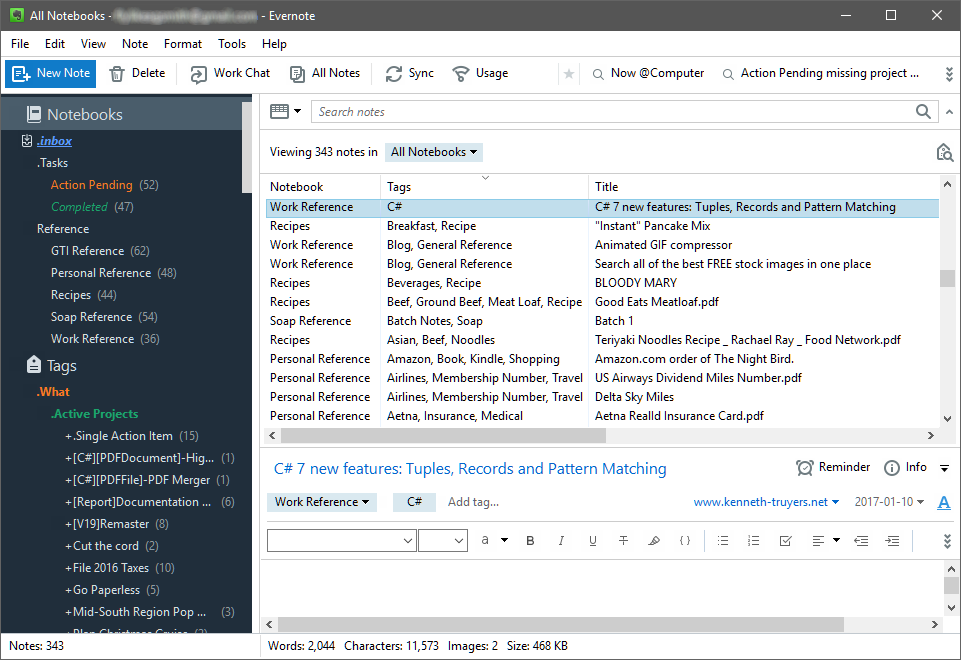 One of the things that was holding me back in the past was finding a system that I trusted to store my data. My definition of a trusted system is a system where I know my data is secure, safe, and available. Additionally, I need to be able capture data from anywhere, including Internet, e-mail, snail mail, and out in the real world. I was trying a combination of OneNote and OneDrive, but I was not completely happy with it and never totally dove in. Then, I discovered Evernote. I had heard about Evernote in the past, but thought of it as just a non-Microsoft replacement of OneNote. However, once I did begin considering it, I found that there are specific features in Evernote that I have not been able to find or use as easily in OneNote that can make it my trusted system.
The number one priority of my desired system is data security. For example, I want to ensure that my information does not fall into the nefarious hands of an identity thief. If the system does not meet that criteria, I will not add documents that contain personal information. Evernote addresses this on their security page by addressing how different areas of the system are secured. While I would not keep top secret information in the Evernote cloud, I will keep a copy of my tax returns in password protected PDF files using the AES encryption algorithm with a 256-bit key. Also, there are ways of using LEADTOOLS to encrypt or redact certain parts of files that I may cover in a later post.
The second priority of my system is data safety; knowing that the data will be there when it is needed is key. The point of going paperless is to dispose of the paper once it is in the digital system. I am not going to do that until I know I will not lose my data. Evernote does not have a menu item to "back up" data. I cannot speak for the makers of Evernote as to why they left this feature out, but I have found a solution that requires scheduling a batch file that completely meets my needs. I will provide that script in a future post.
The third priority is data availability. Data availability has two meanings. First, I should be able to get to my data without having to go to a specific location, preferably accessing it from anywhere using my phone. With Evernote, I can access my data from my desktop, laptop, and phone. Second, I should be able to quickly find a specific document out of the thousands that will be stored in the system. By employing Evernote's notebook stacking and note tags in a way that is logical (to me), this requirement is satisfied.
Finally, I need to be able to get data into the system very easily, else I might not use it consistently. This is accomplished with the combination of software (Windows Explorer integration, mobile app, Outlook add-in, and browser extension), hardware (scanner and smart phone), and a workflow or methodology that enables me to capture information without breaking my stride to organize.
While I have been surrounded by digital imaging technology since 1996, I am still learning what works for me, shortcomings of certain pieces of existing software and hardware as I try to make them work in my system, and ways to streamline and improve the overall system. Stay tuned because I will be adding more posts as I learn and make improvements, including how to automate Evernote backups, PDF password protection and encryption, adding encryption to parts of an image for added security, Evernote notebook and tag organization strategies, scanning large batches of documents with maximum efficiency and much more.
In the comments, tell me about your experiences or stumbling blocks that you have encountered with going paperless.