Distributed Transcoding and Conversion SDK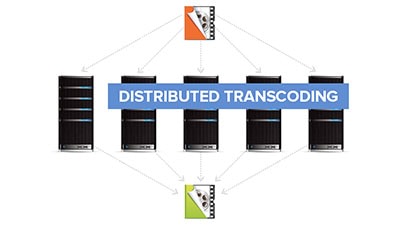 LEADTOOLS provides DirectShow Elementary Stream (LTES) filters and transforms for optimizing multimedia file conversion speeds by splitting and converting each piece in parallel on a single computer or distributed across multiple machines. When combined with the LEADTOOLS Distributed Computing SDK, developers can create powerful audio/video transcoding applications that simultaneously provide faster file conversions and reduced end-user CPU usage.
Overview of LEADTOOLS Distributed Transcoding and Conversion SDK Technology
Convert to and from any supported format using any DirectShow or Media Foundation codec
Split large files into multiple, smaller pieces for distributed conversion and merge the results with no loss
Automatically and intelligently detect the best split points to ensure a seamless output file with no gaps or hiccups
Distribute conversion tasks or portions of files using the Distributed Computing SDK
Includes .NET (C# & VB) and C DLL libraries for 32 and 64-bit development
Benefits of Distributed Transcoding and Conversion
Faster conversions using multiple machines —
Large audio/video files can be split and distributed between multiple servers or desktop computers to speed up conversion and recompression in addition to using little to no resources on the client machine.
Faster conversions on a single machine —
Programmers can utilize more CPU by splitting a file and converting each piece in parallel on the same machine.
Other LEADTOOLS SDK Technologies Related to Distributed Transcoding and Conversion
LEADTOOLS SDK Products that Include Distributed Transcoding and Conversion SDK Technology
Hover for more information. Click for details.
The LEADTOOLS Multimedia Suite SDK is a comprehensive collection of multimedia development technology that provides developers with everything they need to create enterprise-level multimedia applications for a wide variety of industries including defense, broadcast, security and more. By bundling features from the Multimedia SDK, DVD Module, Streaming Module, MPEG-2 Transport Module, Imaging Pro SDK and Distributed Computing SDK, Multimedia Suite offers a tremendous value for the world-class technology it includes.
NOTE: LEADTOOLS DirectShow Filters are very diverse and cover the gamut of multimedia features and technologies. Many filters are included with the base SDK products above, while some can be added á la carte or bundled together with various add-on modules. See the Multimedia Product Comparison Chart for more details on how to obtain each filter.