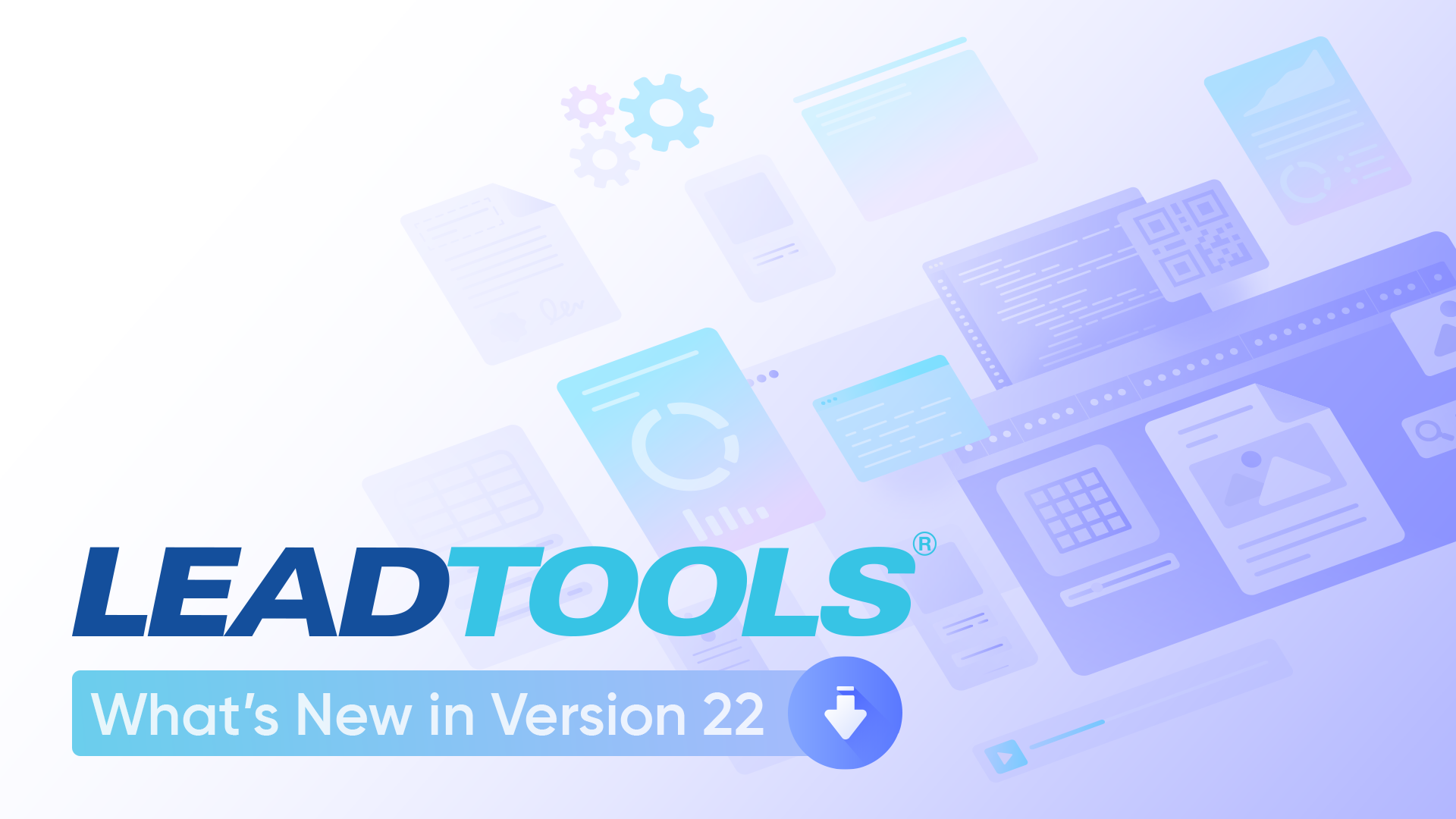 LEADTOOLS Version 22 was released with a bang last year with the introduction of our Document Editor SDK, ID Reader SDK, and numerous enhancements and features throughout our product line. But you know that we couldn't stop there!
Inspired by direct feedback and requests from our customers, we are happy to announce an update to LEADTOOLS V22 that continues our tradition of providing innovative and valuable development tools to programmers.
Added PDF Form Field Support
With the LEADTOOLS PDF SDK and minimal code, developers can build interactive and automated solutions that load, fill, update, and save PDF form field data. Developers leveraging the Document Viewer can add the ability for users to load and enter data into PDF form fields and then save the PDF. Alternatively, developers can create automated workflows with no user interface that fill in PDF form fields. Developers needing a complete PDF toolkit that includes PDF form fields now have the answer with this update to LEADTOOLS.
The LEADTOOLS PDF SDK now supports the following field types:
Text Box
Check Box
Radio Button
List Box
Combo Box (also referred to as Drop-down List or Select List)
Developers are now able to parse and update AcroForms fields and data, such as: text values in text form fields, selected items in choice form fields, checked and unchecked check box fields, and selected and unselected radio button fields.
Additional updates to PDF Forms include:
Document Viewer Winforms support
Ability to update PDF form fields values without modifying anything else in the file except the form fields values
Low-level support throughout the PDF toolkit
High-level support throughout the Document toolkit
Support for filling form fields in LEADTOOLS Document Viewer
Server-side support for parsing PDF form fields
Support for JavaScript Client-Side (Local Mode) to parse form fields in the Document toolkit
Check out the new PDF form field support within our Document Viewer Demo!
Barcode Noise Removal Enhancement
The updated automatic noise removal techniques within the LEADTOOLS Barcode SDK enhance barcode recognition in images.
Document Editor Support for Data Streaming
The LEADTOOLS Document Editor can now stream document data between the client and the server. This improves the end-user's experience when loading and editing large multi-page files by becoming interactive sooner and providing a means for the end-user to cancel the stream.
Java Document Service Caching
Java Document Service caching optimizations make loading and saving from cache faster and more efficient. This enables users of the Java Document Service to increase the speeds at which files are loaded and saved.