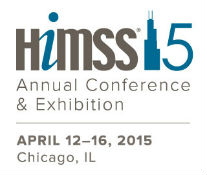 After the recent release of LEADTOOLS Version 19, we are excited to hit the road this Spring. HIMSS 2015 in Chicago will be our first stop where we will showcase all of our Medical, Document and Multimedia imaging technology at booth #7839.
In particular, LEADTOOLS V19 has many new features for use in PACS and EMR solutions which will be popular topics at the conference.
PACS and Medical Image Viewing
Thousands of Medical Imaging application developers have trusted LEADTOOLS for their DICOM and PACS needs. Accurately conforming to DICOM standards is a difficult challenge many face, and LEADTOOLS' high-level components and OEM-ready solutions will expedite any medical imaging project and ensure that your application is up to date and complying with the latest specifications.
EMR and Document Normalization
LEADTOOLS also includes advanced Document Imaging technology for integration with EMR and other electronic document storage and viewing applications. The new Document Converters and Viewers in Version 19 help you achieve document normalization and zero-footprint viewing, and the world-class OCR and Forms Recognition engines will extract data from virtually any document regardless of its structure to help expedite Big Data mining, document workflow optimization, and record keeping system implementation.
Visit LEAD Technologies at HIMSS Booth #7839
In addition to these features, LEADTOOLS will have much more on display at HIMSS. While you are in Chicago, we hope you take the time to visit our booth to meet our imaging experts and check out the latest medical imaging technology in LEADTOOLS.
HIMSS Details
April 12 – 16, 2015
Chicago, IL
Booth # 7839
Contact us (HIMSS-2015@leadtools.com) to set up an appointment to meet with our representatives at the show.