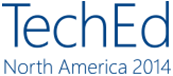 Microsoft's TechEd conference is a huge gathering of software developers and we have had the privilege of being a staple at these shows for many years. Come by our booth to see the entire LEADTOOLS product line including Document, Medical, Multimedia, Raster, Vector and Cross-Platform Imaging SDKs. We also pride ourselves on having some of the coolest booth swag in town – you won't want to miss it!
May 12 – 15, 2014
George R. Brown Convention Center
Houston, TX
Booth # 1837
Schedule a meeting
This year, we're having a bit of fun as well. Keep an eye out for our ad and survey card in MSDN Magazine and the TechEd Conference Guide for a chance to win a FREE Samsung 65″ LED SMART TV!