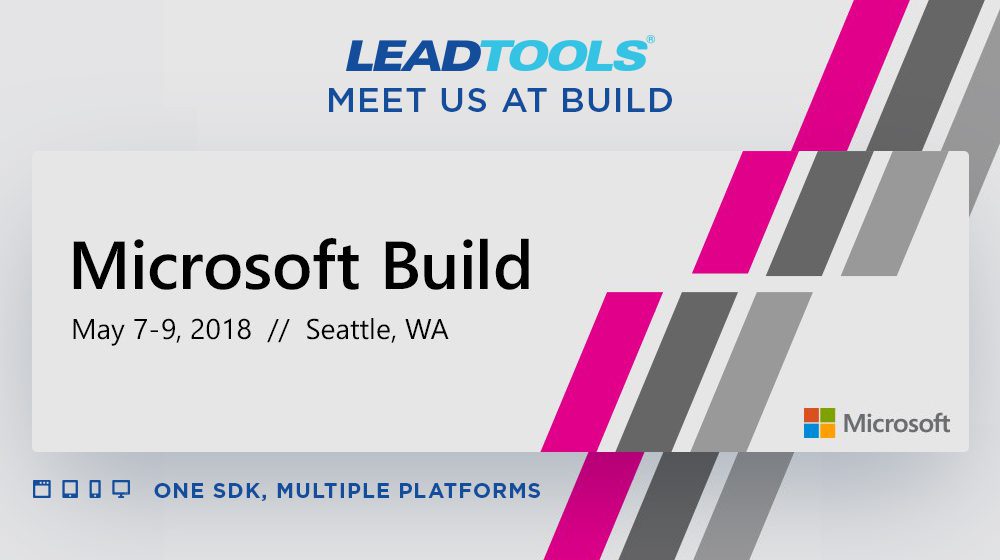 LEAD will be exhibiting again this year at Microsoft Build and we want you to join us! We probably don't need to tell you, but here are just a few reasons to attend:
Learn from 300+ technical sessions and 80 interactive workshops on the Microsoft tools and platforms we rely on. Topics include: AI, machine learning, mixed reality, serverless, hybrid cloud, IoT, big data, advanced analytics, and more.
Connect with experts and engineers to share insights and imagine innovative solutions.
Explore exciting emerging tech to prepare our organization to solve today's challenges and lead in digital transformation.
Connect with the LEAD team and see LEADTOOLS Version 20 and the upcoming, brand new LEADTOOLS Azure Cloud Services in action!
Win a FREE Conference Pass!
The conference is May 7–9 in Seattle, Washington, and a pass costs a whopping $2,495. BUT for one lucky LEADTOOLS subscriber we're giving away a FREE conference pass. To enter:
2. Post or tweet to us using the hashtags #LEADTOOLSMSBuild #MSBuild and let us know that you'd like to attend by either posting a picture with your LEADTOOLS shirt/swag or give us a compelling reason why you'd like to go. Note: Make sure to make your Facebook posts public so that we can see them and count you in the contest!
3. Find out if you've won yourself a conference pass when we announce the winner of the contest at the end of this week. Update: Congrats to Carlos on winning our contest – We'll see you at Build!
If you are already attending, great! Let's get a meeting or demo set up with one of our solution experts while you're at the conference. We look forward to seeing you in Seattle!
Microsoft Build
Booth #E56
May 7-9th, 2018
Washington State Convention Center
Seattle, WA