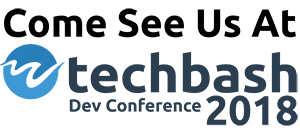 The LEADTOOLS team is headed north this fall for the TechBash 2018 Developer Conference. Haven't been to TechBash before? Here's a little more information about the event and why you should go. We hope to see you there!
TechBash 2018
October 2 – 5, 2018
Kalahari Resorts
Pocono Manor, PA

What is TechBash?
TechBash Developer Conference demonstrates the latest trends in technology today as well as the hottest technologies including, but not limited to, popular JavaScript frameworks, DevOps Technologies, Cloud implementations, and artificial intelligence. The event will improve our knowledge in these areas leading to greater productivity and efficiency. The event promises three days of in-depth and intensive technical training on some of the technologies you use every day.
What will you learn from LEAD?
LEAD is a Gold Sponsor of the conference this year, and we look forward to showing attendees how LEADTOOLS can expedite cross-platorm application development by adding
OCR
,
Barcode
,
Forms Recognition
,
PDF
,
DICOM
,
PACS
,
Document Viewing & Conversion
,
Image Processing
,
LEADTOOLS Cloud Services Web API
, and much more.
You also won't want to miss LEAD's very own Greg Kieslich speaking on Leveraging and Expanding Web Viewing Support in your Application. Session information will be updated here as soon as we find out!
Please register here and be sure to email TechBash-2018@leadtools.com to let us know if you'd like to schedule a meeting or demo with the LEADTOOLS team while you're there!