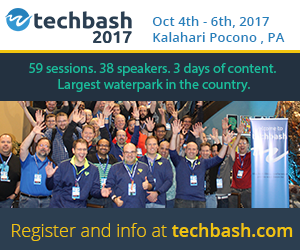 The LEADTOOLS team is headed north this fall for the TechBash 2017 Developer Conference. Haven't been to TechBash before? Here's a little more information about the event and why you should go. We hope to see you there!
TechBash 2017
October 4-6, 2017
Kalahari Resorts
Pocono Manor, PA

What is TechBash?
TechBash 2017 is a 3-day developer conference that will feature top speakers talking about exciting technologies like ASP.NET Core, DevOps, JavaScript, Architecture and Design Patterns, Angular, Docker, and C#. The sessions at TechBash will deliver bleeding edge advances in the coding, designing and development of mobile, web, desktop and SaaS applications.
LEAD is a Platinum Sponsor of the conference this year, and we look forward to showing attendees how LEADTOOLS can expedite cross-platorm application development by adding
OCR
,
Barcode
,
Forms Recognition
,
PDF
,
DICOM
,
PACS
,
Document Viewing & Conversion
,
Image Processing
& much more.
Why is TechBash the conference for you and your team?
Content. Check out the website to see the current list of sessions.
Quality. Presenters are industry leaders from around the country including quite a few Microsoft employees and MVPs.
Location. If you live in the Northeast, this is the conference for you. No airfare needed. And you don't need two extra travel days either. The event is within driving distance of the largest population in the country, only 90 minutes from New York and Philadelphia!
Venue. It's ok to have a little fun too. The Kalahari Resort features the largest indoor waterpark in the country at 220,000 square feet! Check it out: Kalahari Resorts & Conventions.
Price. Book now and tickets are $349. Add 3 hotel nights at the Kalahari and you are still under $1,000 for a 3-day conference at an awesome venue.
Convinced? As a sponsor of this event, we'd love to see you there! Please register here and be sure to email TechBash-2017@leadtools.com to let us know if you'd like to schedule a meeting or demo with the LEADTOOLS team while you're there!