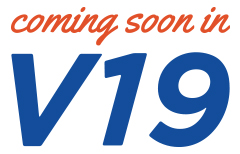 Let's continue our introduction of the upcoming updates to LEADTOOLS V19 Document and Medical technologies. These updates will include a market-first DICOM Hanging Protocol implementation as well as the fastest Forms Recognition and Processing engine in the world! Additionally, the upcoming update includes new features for the HTML5 Zero-footprint Medical Web Viewer, DICOM Storage Server, Recognition Engines, Document Viewer, Document Formats, Linux, and Credit Card Reader.
Today's post is about the new features coming to the LEADTOOLS DICOM Storage Server:
The LEADTOOLS DICOM Storage Server Framework is a collection of high-level .NET components engineered for developers and IT administrators to build robust and full-featured DICOM Storage Server systems. The skillful group of LEADTOOLS DICOM coders is adding even more value to the LEADTOOLS DICOM Storage Server with the addition of DICOM Hanging Protocol storage, DICOM Storage Commit, and Microsoft Message Queue.
We are updating the DICOM Storage Server to provide a DICOM-standard method to store, manage, and share Hanging Protocol IODs.Additionally, we are adding a high-level DICOM Storage Commit Service support to LEAD's high-level DICOM Store SCU class and creating a Storage Commit Add-on. These will allow LEADTOOLS users to easily create (SCU) and process (SCP) Storage Commit requests. Storage Commit options will provide the ability to process Storage Commit requests on the same DICOM association, a new DICOM association, or both.Finally, we are adding a mechanism to communicate events using the Microsoft Message Queue to integrate the LEADTOOLS DICOM Storage Server with other systems on the network, making it easier to automate workflows outside of the LEADTOOLS DICOM Storage Server.
Click here for more information on the LEADTOOLS DICOM Storage Server
For more information or to be notified when these new features are available, contact support@leadtools.com As a reminder, this update will be available at no additional cost to all registered LEADTOOLS Version 19 and current maintenance customers. Contact LEAD to see if you are eligible to receive these updates.
Information concerning the other new features and announcements mentioned above will be provides in future posts. Stay tuned for more information!