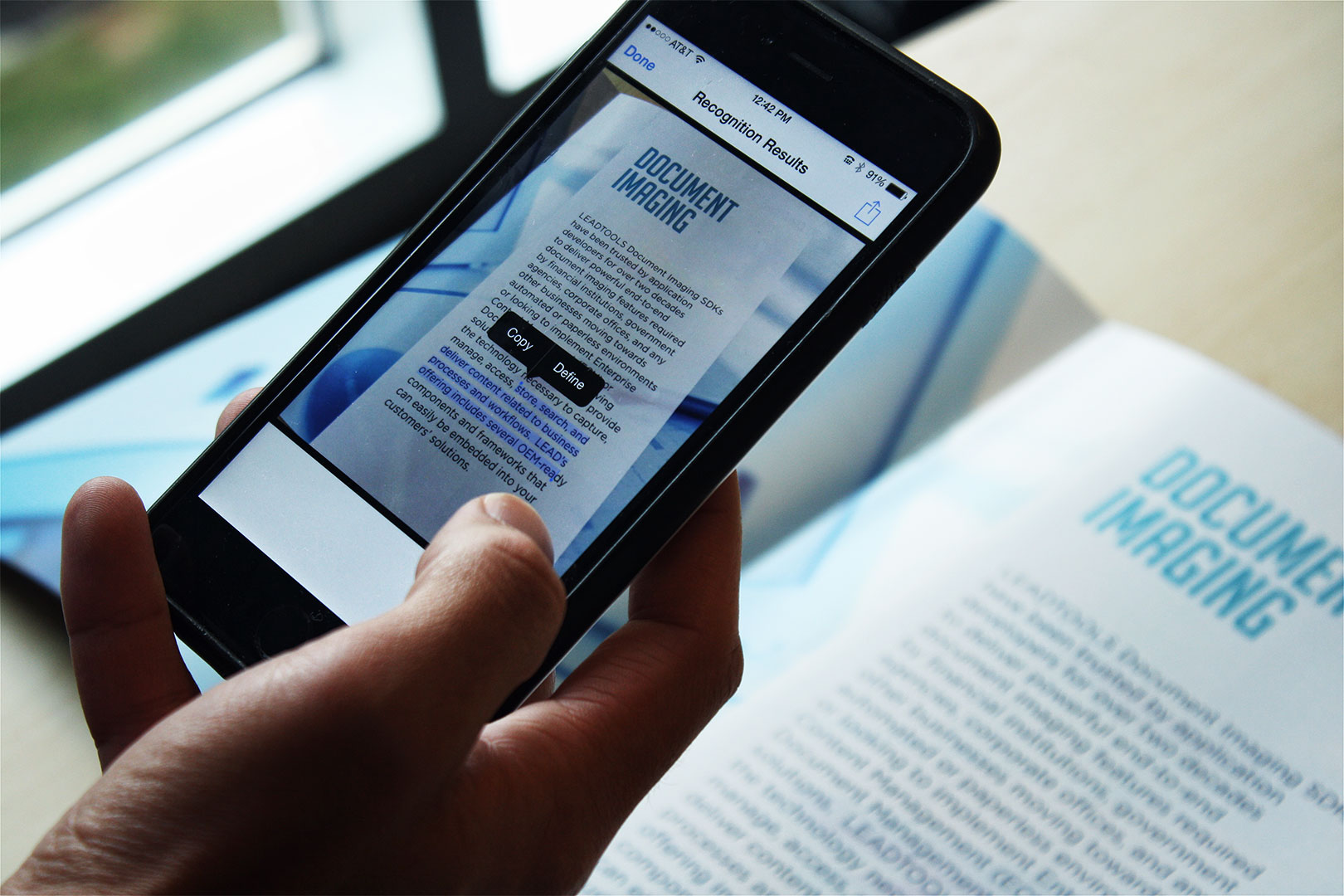 If you've been keeping up with us, you are already aware of our recent update to our Android, iOS, and OS X development libraries (if not, go read it!). Shortly after that release, our developers have been rolling out updates to all of our mobile demo apps available on the App Store, Google Play, and Windows Store.
In general, here are some of the great benefits our mobile toolkits provide developers:
Unique Mobile Recognition Features
LEADTOOLS recognition technologies, such as OCR, barcode, check processing, ID recognition, and credit card recognition, eliminate the obstacles associated with mobile recognition and are the most robust and comprehensive solution available. Unique features, such as taking a picture on your phone or tablet and converting it to a searchable PDF or DOCX, set LEADTOOLS apart through high accuracy and reliability.
Most mobile apps start with the camera, which are a wild card due to the diversity in devices on today's market. Ensuring the quality of the image or live capture feed is essential to the final accuracy of the text. LEADTOOLS understands this dilemma and includes many algorithms that account for problems encountered during image capture.
Most notably, LEADTOOLS includes special handling for fixed-focus digital cameras still found on many popular devices. This is an important feature for recognition technologies because fixed-focus lenses typically underperform at close range where pictures of documents, checks, credit cards, etc. are taken.
Additionally, LEADTOOLS includes automatic perspective deskew. This advanced preprocessing function helps eliminate the distortion present in the majority of mobile phone pictures where the phone isn't held on the same plane as the document. LEADTOOLS finds the corners and gets all of the text back in alignment, resulting in much greater accuracy in both the text itself and its font characteristics.
Common Libraries for Easy Porting
Many mobile app developers are tasked with creating the same application for multiple platforms. LEADTOOLS is designed with that reality in mind and provides programming interfaces that closely resemble each other so that porting your Windows Phone application to iOS or Android is a smooth and hassle-free experience.
Mobile Store Approved
Though third-party SDKs don't require their own screening or approval process in various mobile application stores, LEADTOOLS has published several of its demos as free application utilities to the App Store, Google Play, and Windows Store. They not only serve as useful tools for your device, but also demonstrate that using LEADTOOLS in your app can pass the stringent approval processes required by mobile device app stores.