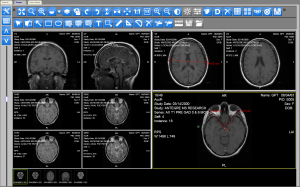 It's been a busy week here at LEAD Technologies. After
releasing a beta program for our new WinRT SDK
last Thursday, we have another major product update announcement regarding our
HTML5 Zero Footprint DICOM Viewer
.
The HTML5 Medical Viewer keeps getting better and better. The addition configurable layouts for multiple studies and series is the most impressive addition from this update. Combined with DICOM Cine, Waveform, drag and drop and a study timeline, the LEADTOOLS HTML5 Viewer is the most sophisticated and fully-featured zero footprint medical viewer on the market.
View one or more studies using various study viewer layouts
Custom series level and study level layout options
Load and Save DICOM Annotations (Softcopy Presentation State and Compound Graphic Object)
DICOM Cine
Display DICOM Waveform data
Study timeline
Drag and Drop support for image series
Automated Patient Orientation
Apply image processing and manipulation to a single frame or entire series
New image processing and annotation features
Extended options for users, roles and permissions
And of course, all of this works flawlessly on any desktop, tablet and mobile device that supports HTML5. There are many more features than I could list here and I would suggest checking them out with our
live online demo
!
Thanks,
Otis Goodwin