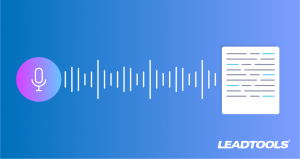 As part of LEAD's continued efforts to provide innovative and valuable development tools to programmers, we are happy to announce an update to LEADTOOLS v22 that includes support for Speech Recognition. LEADTOOLS Recognition SDK Technology is trusted by tens of thousands of developers worldwide to deliver powerful, end-to-end recognition features to help build better applications.
NEW: Speech Recognition
LEADTOOLS recognizes speech natively, without the need to send data to a server, converting spoken language into text.
Integrate Speech-to-Text Capabilities With CDLL and .NET Applications
Client-Side JavaScript Speech Recognition Support Using Web Assembly
Save Results To All Supported Document Formats
Speech Recognition built into the LEADTOOLS Document Editor
Combine Powerful Speech Recognition and Document Editing
With Version 22 came the release of the LEADTOOLS Document Editor a powerful zero-footprint editing solution for web applications. Now with speech recognition, the Editor enables users to transcribe audio to text, edit the result, and save to one of many formats including PDF, DOCX, and TXT. No server computing required! All of this functionality is performed locally in the browser eliminating any issues that slow network connections cause for web applications.
Try Our FREE Evaluation Today!
Add any of our advanced technology to your projects by downloading our entire collection of libraries in our FREE LEADTOOLS Evaluation SDK.
Not sure where to start? Let our experts show you! Schedule a demo for more information on how the award winning SDKs from LEAD Technologies can help take your application development to the next level.