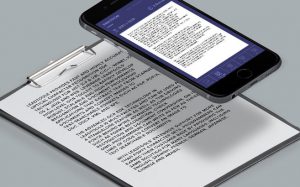 LEADTOOLS provides fast and highly accurate Optical Character Recognition (OCR) SDK technology for .NET (C# & VB), C/C++, WinRT, iOS, OS X, Java, and web. Developers around the world are leveraging the LEADTOOLS SDK to add high-performance OCR and document processing to their applications across all of the platforms in their enterprise, including server, desktop, and mobile devices.
OCR is a very processor intensive process, so native OCR on servers and desktops is expected. But, did you know that LEADTOOLS OCR also runs natively on Windows Phone, Android, and iOS? To test the performance of LEADTOOLS OCR on your our device, we have created several applications and put them in the respective app stores. These apps can OCR images stored on the device or taken with the camera in order to extract text or convert to a text based document format such as PDF or DOC.
Features include:
Extract and copy the text from an image taken with your phone's camera or photo gallery
Convert and export images to a variety of document formats, including: PDF, DOCX, Text, SVG, and more
OCR images in English, Spanish, French, German, and Italian (more are available with the SDK)
Select an area in the image to OCR or OCR the entire image
Several imaging processing functions to optimize text recognition, including 3D deskew (keystone correction), color inversion, and rotation (more are included with the SDK)
Better yet, if you are a developer, you can get the source code for these apps to use in your own app development when you download the LEADTOOLS SDK! The OCR app is just one of the applications that are provided with source code in LEADTOOLS. For more information or to download a free evaluation SDK that includes the source code for the OCR app, visit: https://www.leadtools.com/sdk/ocr
While we built this mobile application to showcase the OCR technology available in the LEADTOOLS SDK for developers, anyone can use and find value in downloading the LEADTOOLS OCR app. We test drove numerous other OCR apps available and there really is no comparison in the speed & accuracy of text recognition. In addition we offer numerous recognition settings and various output formats all in an easy to use interface. Don't take our word for it however, check out the LEADTOOLS OCR app for yourself (it's free!)
Download the LEADTOOLS OCR App from Apple App Store
Download the LEADTOOLS OCR App from Google Play
Visit https://www.leadtools.com/demos/ to see a list of all of our mobile apps—including OCR—that you can install on your device.