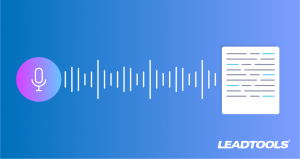 The LEADTOOLS Document Editor is a powerful zero-footprint editing solution for web applications. Now with speech recognition, the Editor enables users to transcribe audio to text, edit the result, and save to one of many formats including PDF, DOCX, and TXT. No server computing required! All of this functionality is performed locally in the browser eliminating any issues that slow network connections cause for web applications.
Try Our FREE Evaluation Today!
Add any of our advanced technology to your projects by downloading our entire collection of libraries in our FREE LEADTOOLS Evaluation SDK.
Not sure where to start? Let our experts show you! Schedule a demo for more information on how the award winning SDKs from LEAD Technologies can help take your application development to the next level.