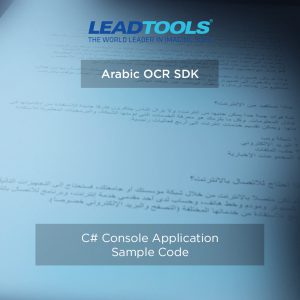 I recently posted a project to our forums that will
use the LEADTOOLS Arabic OCR engine to
OCR an entire folder of images and
output the results to text files.
The project is for Visual Studio 2013 (.NET 4) and uses LEADTOOLS V19.
Make Sure
Make sure that you have downloaded and installed the LEADTOOLS Arabic OCR for the Professional Engine.
Also, when you view the results in your text viewer make sure you have selected a font that supports Arabic. For example, in Notepad.exe, Menu > Format > Font… Type Arabic in the font name and see if one is listed. If so, select it and make sure the Script: setting is set to Arabic before clicking the OK button.
Features Used