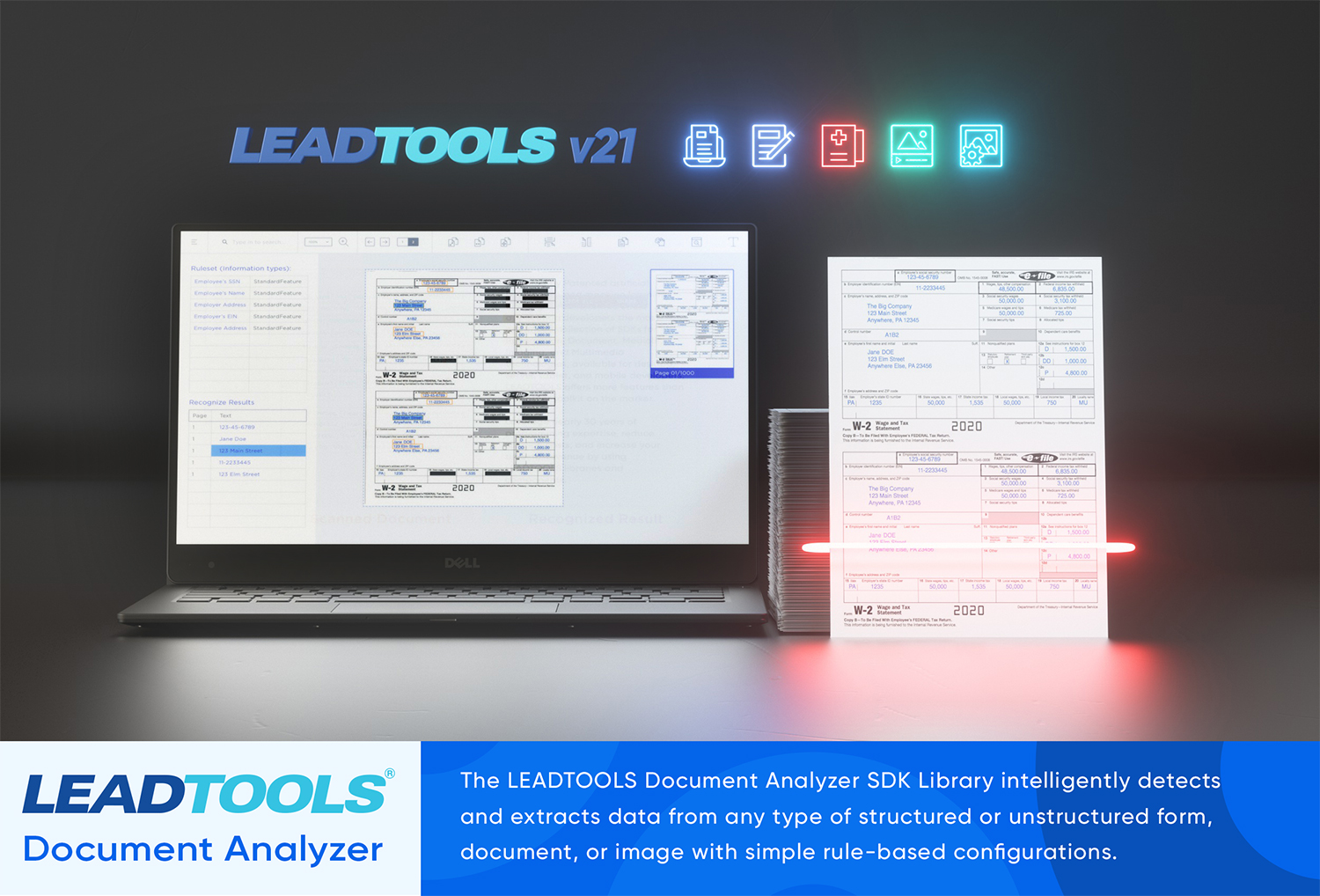 The LEADTOOLS Document Analyzer is an innovative new library that intelligently finds and acts upon information in unstructured documents and images. The Document Analyzer handles what was once mundane and tedious manual work as it automatically sifts through data to find information of interest. Once a piece of information is found, an action such as highlight, redact, or extract can be applied. You will see below that the use cases of the Document Analyzer are widespread and varied, but all save time, reduce error, and improve the customer's experience.
On-the-Fly Redaction
Imagine that you have a huge repository of customer submitted documents and images that may contain personal information. Then imagine that third-parties require access to sanitized versions all of those documents and images. It is up to you to provide a solution. You can either duplicate the repository with manually redacted versions (which would require significantly more space), or you can keep one repository and leverage the LEADTOOLS Document Analyzer to fully automate redaction, on demand, before sending the document to the requestor.
Automatic Data Extraction
Data extraction is another workflow where the Document Analyzer is an important component. The analyzer can automatically process documents to accurately find and extract critical information. For example, a mortgage processor needs to verify the applicant's annual salary and monthly expenses on mortgage application before sending to the underwriter. Do the expenses match the two months of bank statement included with the application? Do the deposits match the income? Are there any large expenses not accounted for in the application? Instead of manually finding and extracting information to answer these questions, the Document Analyzer will do it. Then the information can be presented as normalized view, which further reduces errors, eliminates confusion, and shortens learning curves.
Highlight What Matters or What's Missing
Not only can the Analyzer be used to extract information, it can be used to highlight important information within the source document. Further, if a certain piece of information is required, but not found, the document can be flagged as incomplete so that a request can be sent to the original submitter. The possibilities are limited only by the imagination when it comes to use cases for the Document Analyzer.
See What's Possible For Your Business
The Document Analyzer is the culmination of decades of AI and computer vision development at LEAD Technologies. It represents LEAD's dedication and single-mindedness to produce powerful solutions that solve real-world issues faced by millions of users around the world. For more information on how the Document Analyzer can improve your business workflows, contact support@leadtools.com to schedule a demo.